You know the importance of a flawless finish. If you're going to do it, do it right… Right?
If you're building with Trex decking, we already know that you're planning a quality deck project. We also know you're going to want your fasteners to hold tight, last long, and not interfere with the look of those beautiful deck boards.
Get the polished look you're after with an assist from FastenMaster's comprehensive selection of attachment solutions: They have all the bases covered. Designed specifically for Trex decking and fascia, these must-have products and tools are game-changers for deck projects that turn out just right, every time.
TrapEase 3: The Ultimate Deck Screw for Trex Decking

We all know the drill: Predrilling is tedious and time-consuming. With FastenMaster TrapEase 3, that's a thing of the past. Engineered for Trex composite decking, these screws are your ticket to a clean finished look without the hassle of predrilling.
The #20 TORX ttap drive system ensures no strip-outs, while the color-matched head seamlessly blends with your Trex boards. TrapEase 3 also comes with a lifetime corrosion warranty, and its Spotter Installation Guide guarantees consistent board gapping and fastener placement. Say hello to efficiency and aesthetics in one powerful package.

FastenMaster TrapEase 3
TrapEase FASCIA: Color-Matched for Trex Fascia

The TrapEase Fascia System takes the stress out of attaching your Trex composite fascia, too. Engineered to allow for expansion and contraction, this system ensures your fascia looks great and stays intact over time. The strip-out resistant #20 TORX ttap drive system and a lifetime corrosion and fade guarantee mean your fascia will continue to look great and stay secure.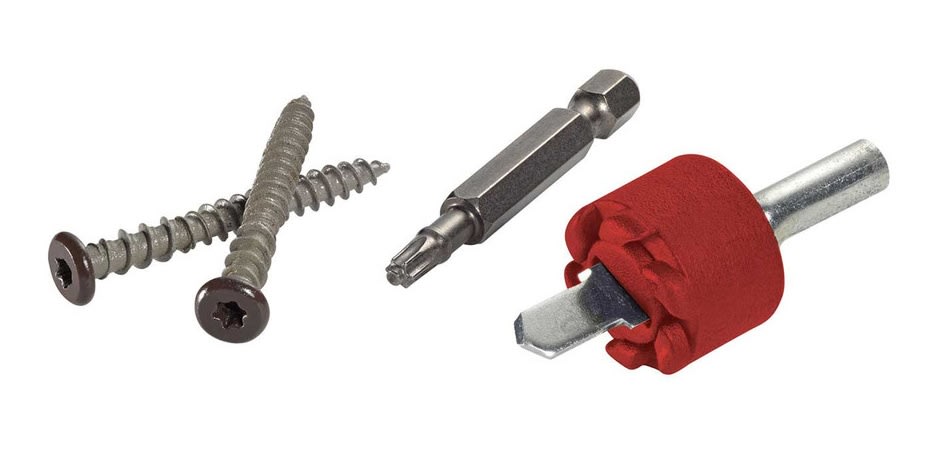 TrapEase FASCIA fastener, TORX ttap driver bit, and counterbore tool
Cortex Hidden Fastening System for Trex Decking

If you want to keep your fasteners out of sight, the Collated Cortex Hidden Fastening System is a master of camouflage. Perfect for Trex stairs, first/last and perimeter boards, this system can be combined with Tiger Claw TC-G hidden fastening clips used for the deck field to achieve an enviable fastener-free surface. Or, use throughout to attach and hide connection points.

The plugs are made from the Trex decking itself, ensuring a flawless match, and the strip-out resistant #20 TORX ttap drive system guarantees a steadfast hold. And it's 50% faster to install on collated strips. ACQ approved and corrosion-resistant, this system is your key to a deck that's both strong and stunning.
TIP: Quickly color match your deck screws and plugs to your Trex decking with our DeckMatch™ color match tool.
For more information, check out Enhanced Fascia and Deck Plugs for Trex Enhance and the helpful FastenMaster Cortex for Decking Installation Tips.

Collated Cortex for Trex Decking
Collated Cortex for Trex Enhance Decking
Collated Cortex is available for the most popular composite decking boards, and that includes scalloped Trex Enhance boards. Get your Collated Cortex in any Enhance board color and rely on the included guide to perfectly place your fasteners in what can be a tricky profile. FastenMaster's exclusive Spotter Installation Guide ensures your pilot hole placement passes through the thickest part of the scalloped board edge for a connection that holds firm.
The perfectly-matched, collated plugs quickly pop right in and melt away into your decking without the need to handle each one. It's a time-saving installation with professional results.

Collated Cortex for Trex Enhance Decking
Cortex FASCIA Hidden Fastening System for Trex Fascia

Fascia boards present their own set of challenges, but the Cortex Fascia Hidden Fastening System takes care of them all. Engineered to accommodate expansion and contraction, this system's color-matched plugs are made from the same Trex fascia material, delivering a flawless finish that's both functional and beautiful. For the easy 3-step installation process, have a look at How To Fasten a Deck Fascia Board with FastenMaster Cortex.

Cortex System for Trex Fascia
TigerClaw TC-G Hidden Fastening Clip for Trex Grooved Boards

Designed specifically for Trex grooved deck boards, the TigerClaw TC-G Hidden Fastening Clip is the star of the show. This stainless-steel system ensures a smooth, fastener-free outdoor space that's not only stunning but also corrosion-resistant. With easy installation and a sturdy connection, this clip is your gateway to a deck that stands strong against the elements.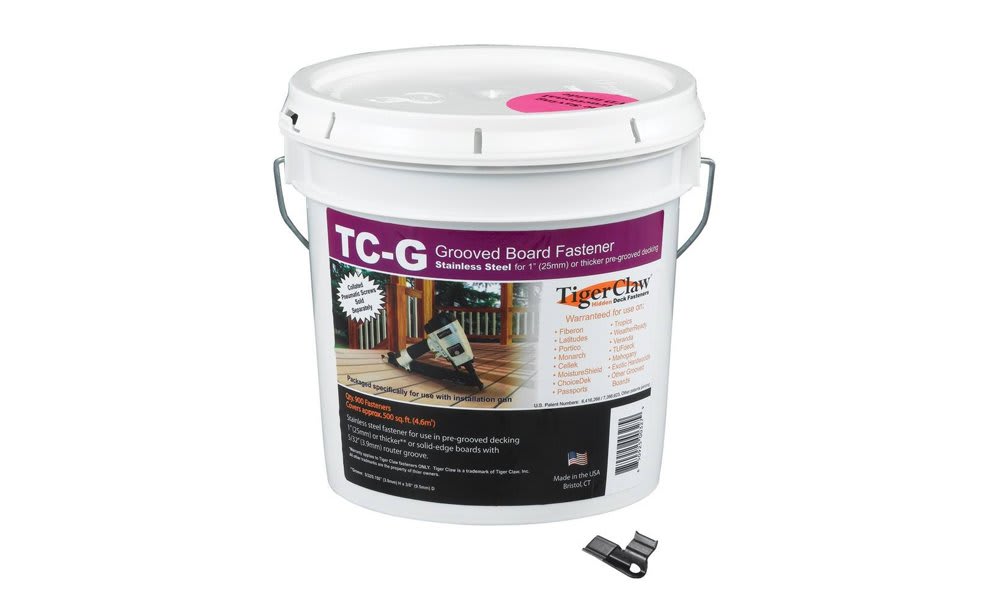 TigerClaw TC-G Stainless Steel Fasteners

And with the TigerClaw Pneumatic Installation Gun you can also speed your Trex deck project along to the tune of about 400 sq ft of board fastened per hour. With precise clip alignment and attachment, this tool makes the TigerClaw TC-G system easy to use for builders of all experience levels. Learn more here: Fast Grooved Board Decking Installation.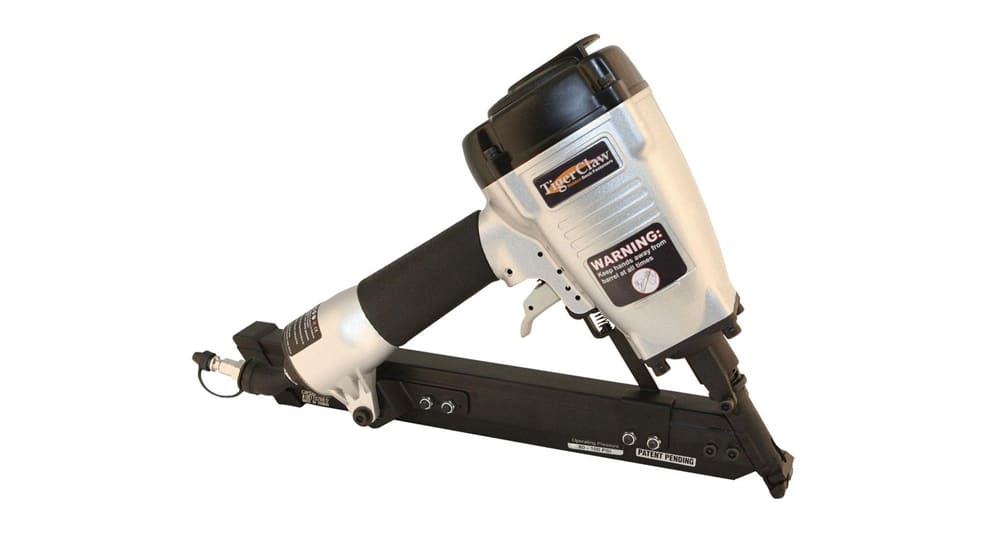 TigerClaw Pneumatic Installation Gun
Streamlined Excellence for Your Trex Deck Projects

When you're building with Trex products, precision and durability are non-negotiable. FastenMaster attachment solutions seamlessly integrate efficiency, strength, and aesthetics into every detail of your construction. From TrapEase 3's clean finish to Collated Cortex's hidden finesse and Tiger Claw TC-G's powerful elegance, these solutions are your ticket to a flawless outcome.
With FastenMaster, you're not just attaching—you're guaranteeing superior results. That new Trex deck deserves nothing less than the best, and FastenMaster delivers it, one attachment at a time.