Hear that? The buzz around structural screws is getting louder. Let's dive into the basics of structural screws, their benefits, and how they can be used in various applications to replace traditional fasteners.
What Are Structural Screws?

Let's start with the basics. Structural screws are the tough guys of the fastener world, designed for projects that demand load-bearing capability and rock-solid connections.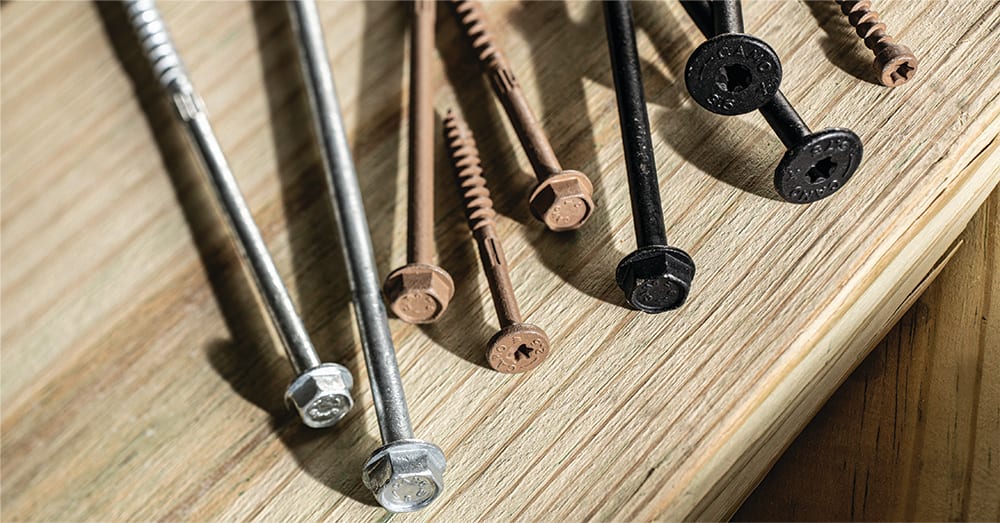 CAMO Structural Screws
They're made from top-notch materials like carbon steel, stainless steel, or other alloys and they're engineered to withstand bending, shearing, and breaking.
The bottom line (which is so important, we're putting it at the top): Structural screws outperform traditional fasteners in critical connections.
That makes them the alternative fasteners that you're going to want in your toolbox.
Benefits of Structural Screws

Now, let's get to the good stuff. What makes structural screws champs in the world of fasteners?
That's simple: It's all the benefits they have over traditional fasteners. You may be comfortable with the old standbys, but there's no denying the advantages of structural screws. We'd bet a box of multi-purpose flatheads that we can get you to embrace the knockout performance of structural screws before this post is over.
Here's a short list of our favorite ways that structural screws lock down the win in our book:
Easy Installation
Here's a major plus—structural screws are a breeze to install. Grab your trusty drill or impact driver, and you're good to go. No fuss, no hassle—just a quick and effortless process that saves you time and effort. Say goodbye to pilot holes, splits, and cracks.

Stronger Hold
Structural screws mean business when it comes to grip. Their coarse thread and sharp point create a powerful bond with the material, significantly reducing the risk of screws pulling out or structures collapsing.

Versatility
Whether you're building a deck, framing a structure, or working on timber connections, reach for structural screws. They're engineered to accommodate a wide range of construction needs and applications. From interior renovations to exterior projects, structural screws deliver on flexibility.

Strength
These screws have exceptional load-bearing capacity, effortlessly withstanding heavy loads, shear forces, and providing excellent pull-out resistance. Unlike nails that rely on friction, structural screws use threads to secure the connection—resulting in higher load capacity and long-term reliability, making them the top choice for projects where strength and stability are non-negotiable.

Durability
No need to worry about rust or corrosion. Structural screws are made from top-quality materials that can brave harsh weather conditions. They're the go-to option for outdoor projects where moisture and humidity could spell doom for other fasteners.

Longevity
Outdoor projects face a relentless battle against environmental elements. Structural screws are built to stand the test of time, resisting rust and corrosion. Your screws—and the structures they support—remain robust for years to come.
TIP: Watch our Structural Screws 101 Webinar anytime for additional topics, including types of structural fasteners, lag screws vs structural fasteners, screw design and performance, and code compliance.
Structural Screws as Replacements for Traditional Fasteners

Structural screws have gained popularity in construction because they can replace many traditional fasteners while offering improved performance and ease of use.
Of course, the suitability of replacing traditional fasteners with structural screws depends on the specific application, load-bearing requirements, and codes. Always consult local building codes when making substitutions to ensure safety and compliance.
With that in mind, here are some of the most common traditional fasteners that structural screws can replace in your projects. You'll never look back:
Replace Nails
Structural screws can replace common nails in many applications. They provide a stronger and more reliable connection, especially in load-bearing situations.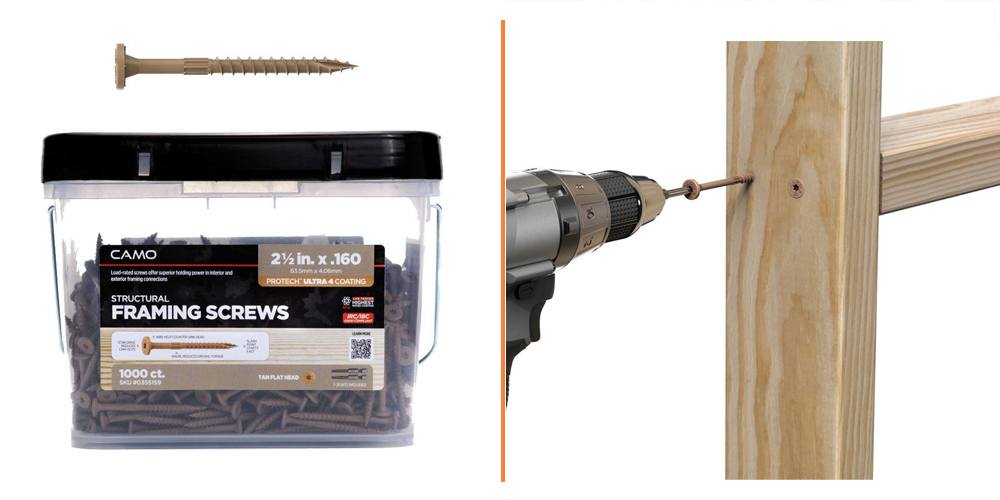 CAMO Structural Framing Screws
Replace Lag Screws & Bolts
In wood-to-wood connections, structural screws can often replace lag bolts or lag screws. They offer similar load-bearing capabilities while being easier to install with a drill.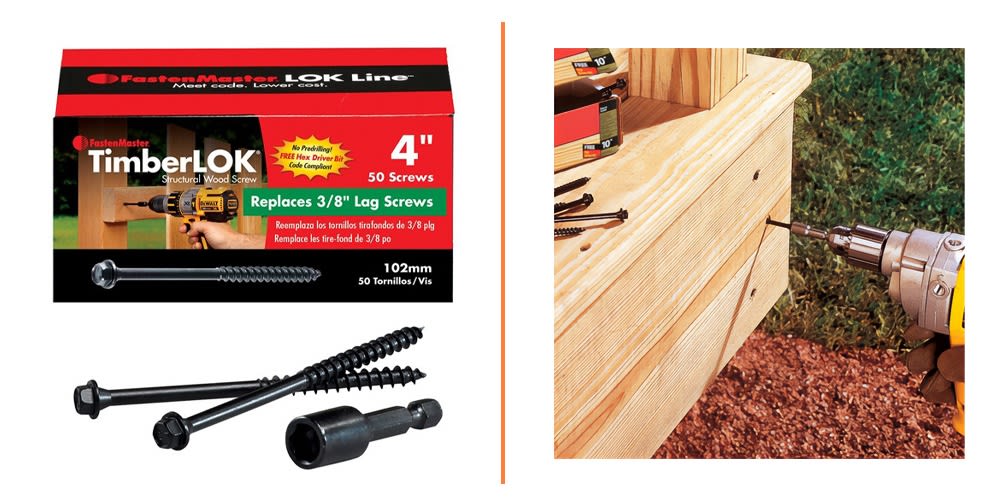 FastenMaster TimberLOK
Replace Bolts & Nuts
For certain applications, structural screws can replace bolts and nuts, eliminating the need for a wrench on one side of the connection. This can speed up installation and provide a secure attachment.
Replace Anchors & Expansion Bolts
In masonry and concrete applications, structural screws can replace anchors and expansion bolts. They provide a more straightforward installation process and often have superior pull-out resistance.
Replace Adhesive Anchors
Structural screws can replace adhesive anchors in concrete and masonry applications. They don't require curing time and can be more reliable in some situations.

Screw Products Tapcon Cement Anchors
Replace Wood Dowels
In timber construction, structural screws can replace wood dowels used for joinery. They offer a more versatile and precise connection.
Replace Joist Hangers
In deck and framing projects, structural screws can replace nails and traditional joist hangers, providing a strong and concealed connection.
Replace Nail Plates & Metal Connectors
Structural screws can replace metal connectors and nail plates used in framing. They can be more cost-effective and easier to install.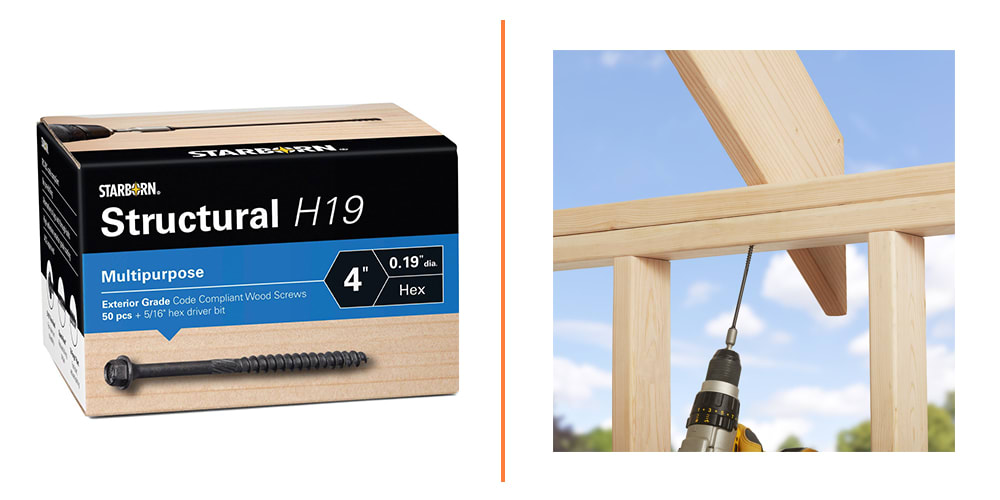 Starborn H19 Multi-Purpose Wood Screw
Replace Hurricane Ties
Hurricane ties require a tedious, ten-nail installation. In most cases, however, a six-inch structural screw can make that rafter or truss to top plate connection faster, stronger, and more economically—and make it code compliant. Check out Replacing Hurricane Ties with Truss Screws for details.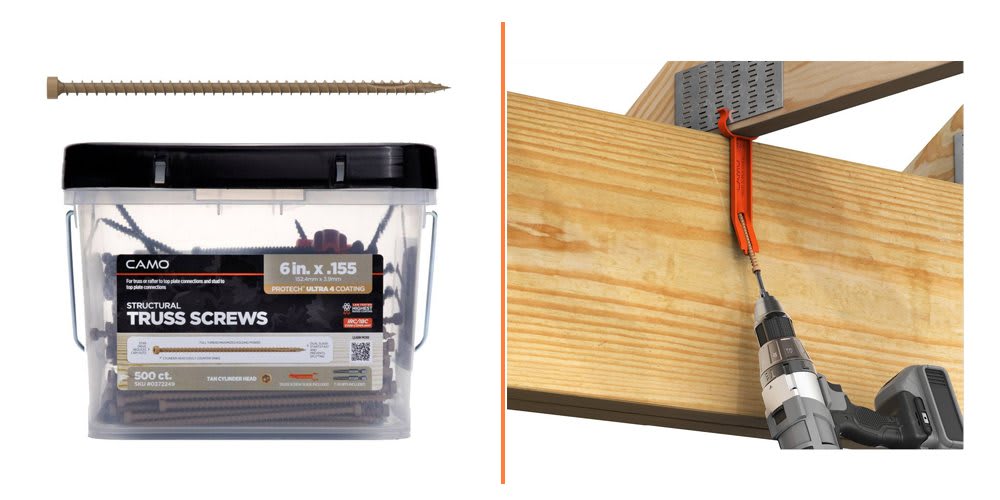 CAMO Structural Truss Screws
Replace Toggle Bolts & Toggle Anchors
Structural screws can replace toggle bolts and toggle anchors in drywall and hollow wall applications, offering a more secure hold.
Stock Your Toolbox

Structural screws make your life easier with their simple installation, unbeatable grip, and lasting strength.
Your next steps are clear:
Get your structural screws at DIY Home Center from top brands including CAMO, FastenMaster,Simpson Strong-Tie, Starborn, and Screw Products.
Get out there and build with confidence!

---
Related Reads: