If you've worked with CAMO screws before, you already trust them for easy installation and solid connections that stand up to the elements. Now, CAMO has added Structural Screws to their fastener toolbox, and you're going to want to add them to yours, too.
Structural fasteners for all your projects
CAMO's full line of high-performing, code-compliant structural screws are ready to bring it all together on your deck, framing, and general construction projects, for both interior and exterior jobs.
As you'd expect, they're all engineered to start fast, drive smooth, and hold strong, with no pre-drilling required. And, backed by CAMO's warranty against rust and corrosion, you can be assured that those critical connection points will stay strong over time.
The CAMO Structural Screw line includes Truss, Multi-Ply, Ledger, Framing, and Multi-Purpose fasteners that deliver significantly stronger holding power than the competition, so you use less screws and save on every project.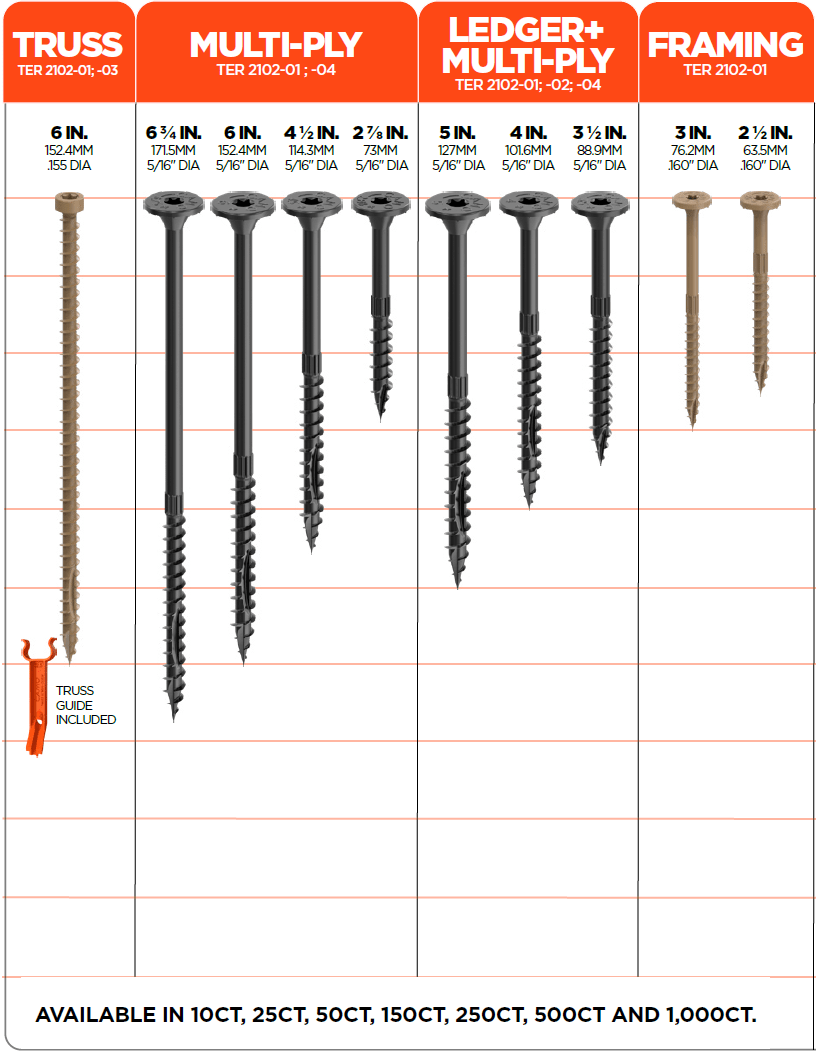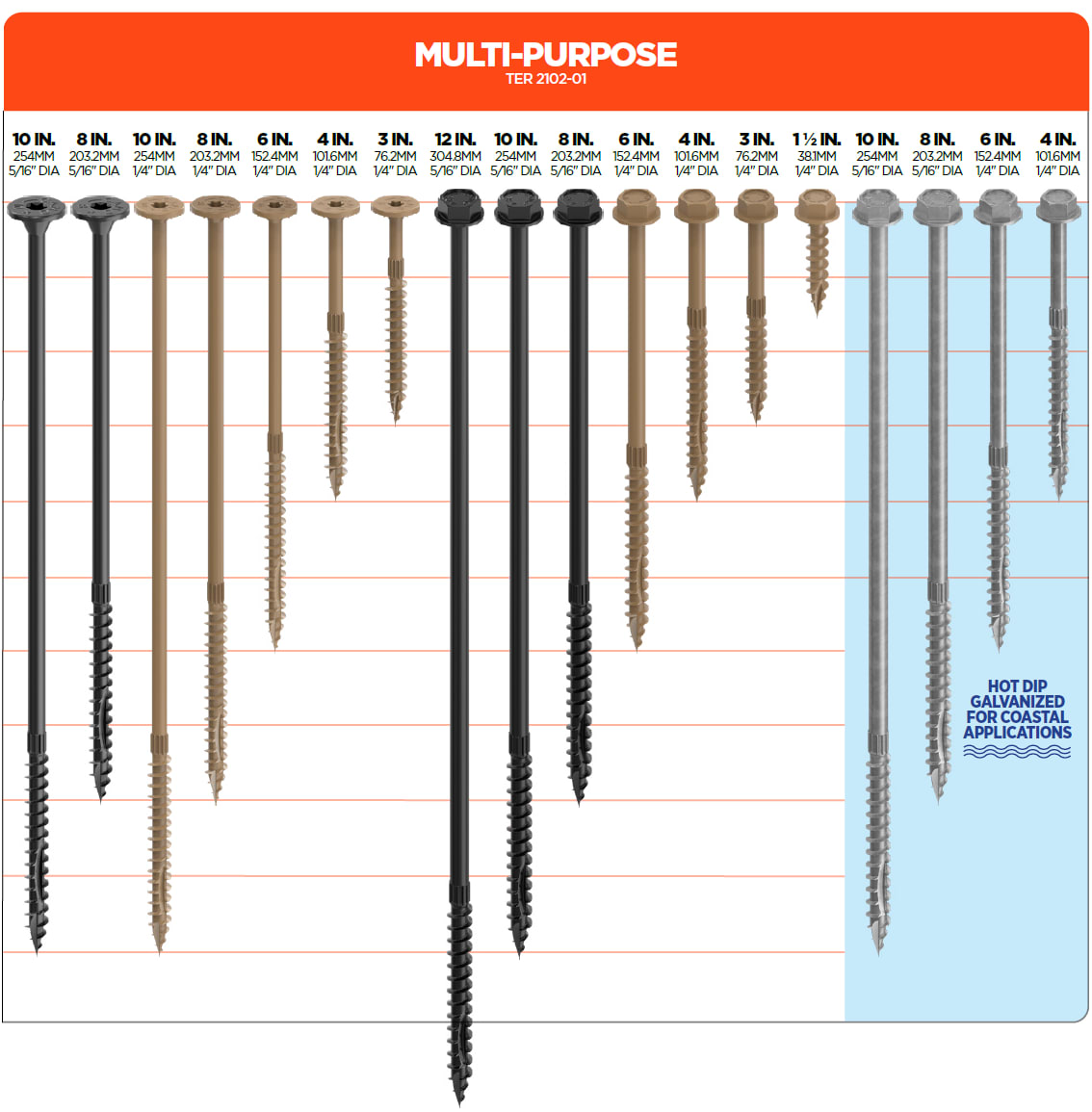 CAMO Truss Screws – The ideal replacement for hurricane ties in general construction and decking applications; includes truss glide
CAMO Multi-Ply and Ledger + Multi-Ply Screws – A strong hold and flush finish for a variety of multi-ply, ledger, and general construction applications
CAMO Framing Screws – Specifically designed and load-rated for interior and exterior framing applications
CAMO Multi-Purpose Screws – Available in Hex Head and Flat Head to replace traditional lag screws and through bolts in deck posts, beams, and other general construction projects; heavy duty option
All CAMO Structural Screws include these design details for superior fastening:
Star drive (washer on Hex Heads) to reduce cam-outs and eliminate excessive wear on your bit
Slashes for reduced splitting
Sharp point for fast starts with no pre-drilling
Additionally, CAMO Truss screws have a cylinder head that easily countersinks with full threading from head to tip for maximum holding power while the others have a straight knurl to reduce driving torque. The non-hex fasteners also feature a flat head for a flush finish and under-head nibs to help countersink the screws.
CAMO brings together construction innovation and extras with the pro in mind, arming you with a comprehensive structural screw line you can depend on at every jobsite:
Industry-leading coatings have you covered
We all know that a fastener is only as good as its longevity. If it breaks down and weakens, it's not a bargain at any price. And no one wants to get calls from customers complaining about rusted or discolored connection sites a few seasons on, either.
CAMO's proprietary PROTECH Ultra 4 four-layer coating system protects your connections against the harshest environmental elements. The layers—zinc plating, e-coat, CAMO proprietary coating and wax—work together to provide optimum corrosion resistance, UV and environmental protection, and torque reduction for a high-performing, long-lasting screw.
Their PROTECH Ultra 4 coating is tested two times longer than the industry standard, so you can be completely confident your connections will last.
For coastal applications challenged by a saltwater environment, CAMO's Hot-Dip Galvanized (HDG) coating on their Hex Head Multi-Purpose Screws is durable, long-lasting, and offers premium protection against corrosion.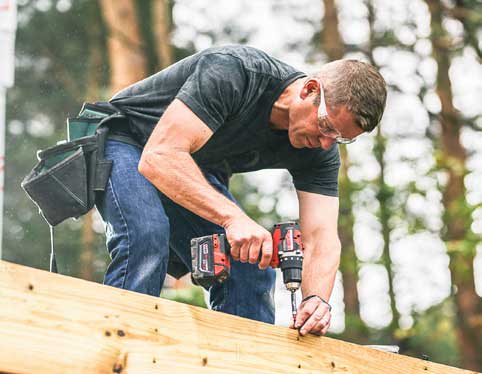 Screw pails that won't let you down
CAMO's all about strength, and that doesn't stop at their screws. They've extended that focus to their screw pails, too.
You may not think a lot about the pail your fasteners come in, but if you've ever had a flimsy bucket split, crack, or swell—or a handle snap off—it grabs your attention pretty quickly, and not in a good way.
That's why CAMO screw pails are made of super strong plastic: One more thing CAMO thought about up front, so you don't have to think about it on the job.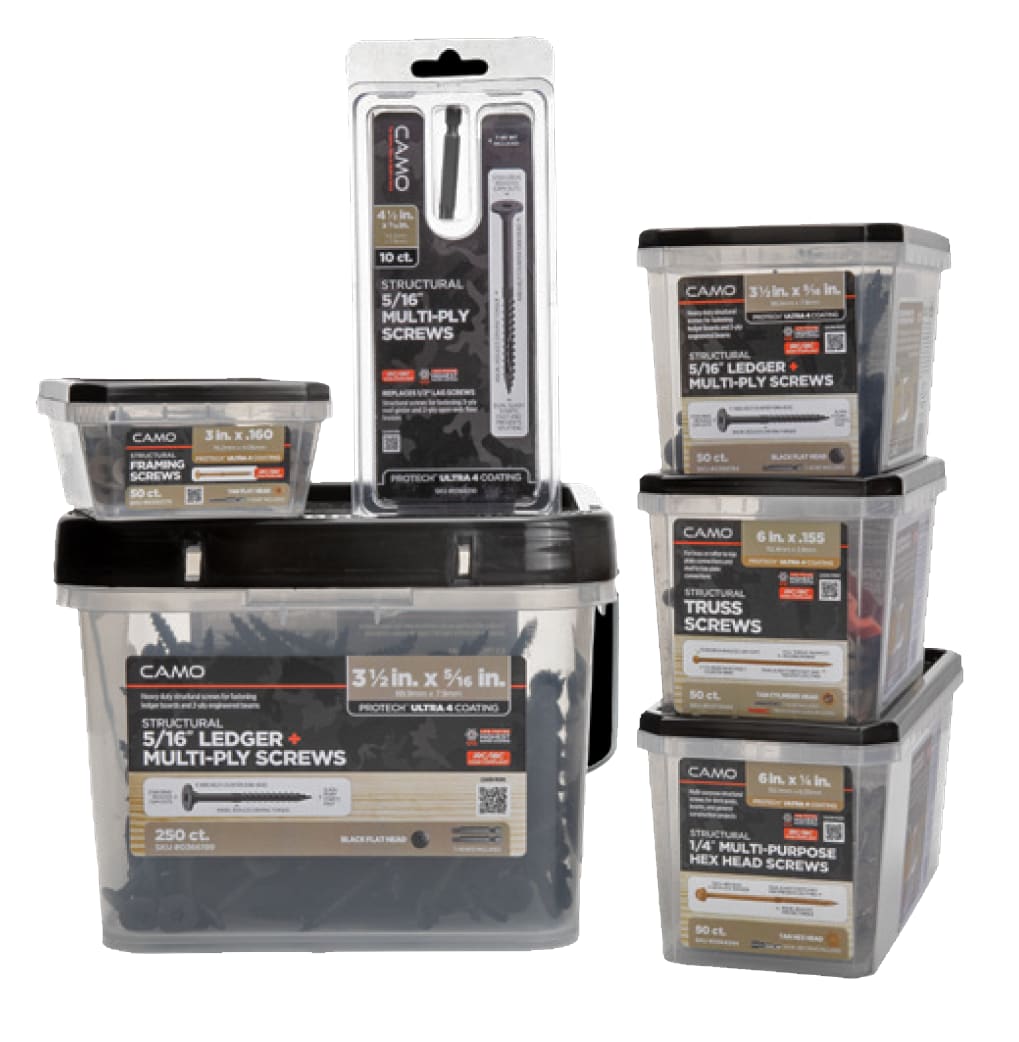 CAMO Structural Screws
Compliance details always on hand
A visit from the inspector. Not that we don't welcome them to the site and the chance to show off our fine work, but let's be honest: We just want to take care of them as quickly as possible so they can move on, and so can we.
When inspectors ask about the IRC and IBC code compliance of your fasteners, CAMO has a simple solution: Direct them to that sturdy pail we were just talking about. Each pail has a QR code, linking right to the relevant CAMO code compliance page with details to completely satisfy the most thorough of building officials.

Inspectors can scan the pail code with their tablet or phone for quick access to the technical evaluation report, DrJ certification, and even an engineer's seal (by download or request, depending on your state), right in the palm of their hand.
It doesn't get more convenient than that. And that means you can wrap up your visit with the inspector sooner—and get back to the work at hand faster.
Your new structural screws
Whether your project calls for truss, multi-ply, ledger, framing, or multi-purpose screws, the CAMO Structural Screw lineup delivers the right fastener for every application. Get your projects done fast, well, and with the highest quality: Reach for CAMO Structural Screws, your new go-to fasteners.
Contact us with any questions; we're excited to talk with you about CAMO Structural Screws and how they can help you build even better!

---
Be sure to check your local building codes and follow all rules, regulations, and requirements before starting your project.