If someone tells us they're welcoming a new arrival to their family, we're happy for them. And we immediately hop online to order up an infant-sized tool belt (yeah, we know a place). But let's face it: It's going to be awhile before that kid can really make an impact at the jobsite.
That's why this news really grabbed our attention:
FastenMaster has announced the latest addition to their LOK line family of structural fasteners.
They named it VersaLOK™, and this new arrival is going to help you on your projects from Day 1.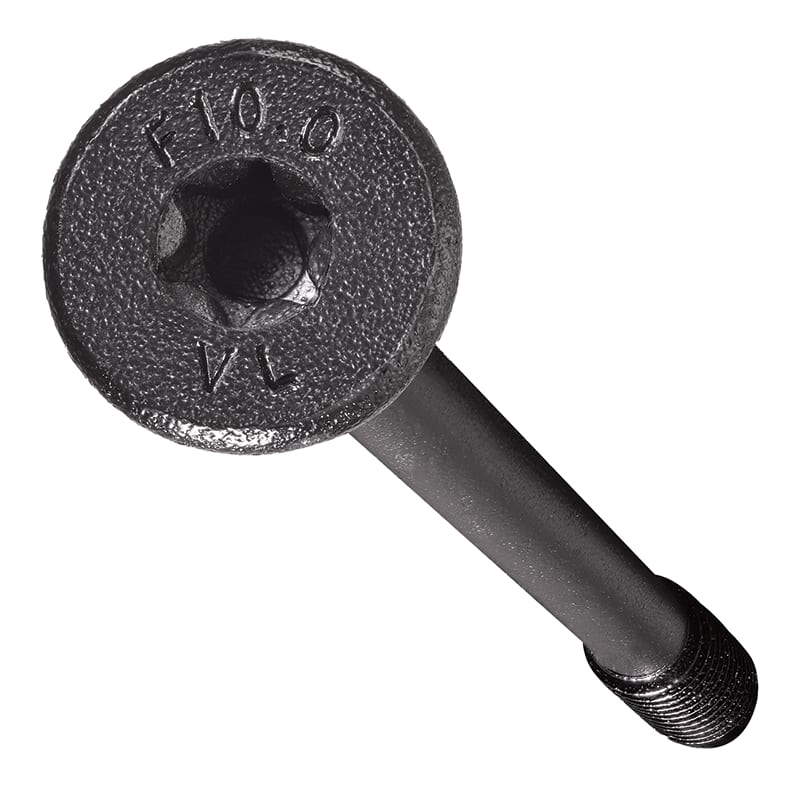 FastenMaster VersaLOK Structural Wood Screw
A chip off the old block
You've met the LOK family. Maybe you use FastenMaster's 3/8" lag replacements like TimberLOK for truss and rafter connections and HeadLOK for decks and fences. Or you count on their ½" lag replacements like LedgerLOK and LedgerLOK Flathead, the standard for making critical deck ledger connections.
So you already know what to expect from these structural fasteners: Strength, ease, and speed.
Their newest carbon steel screw is a chip off the old block: FastenMaster VersaLOK is a flat head, heavy-duty wood screw that replaces traditional bolts with a fastener and easier installation, just like the rest of the industry-leading LOK line.
And while VersaLOK carries on the family legacy, it also delivers big on versatility.
The most versatile fastener
Choosing a name is serious business. It needs to be strong, meaningful, fitting. That's why FastenMaster chose VersaLOK: It's a name full of significance.
VersaLOK screws are the most versatile ½" code-compliant lag replacements. They're ideal for a variety of applications, including:
Angle bracing
Pergolas
Retaining walls
Carrying beam connections
We know you're running through your project list in your mind right now. Let us help: Yes, you do need these screws.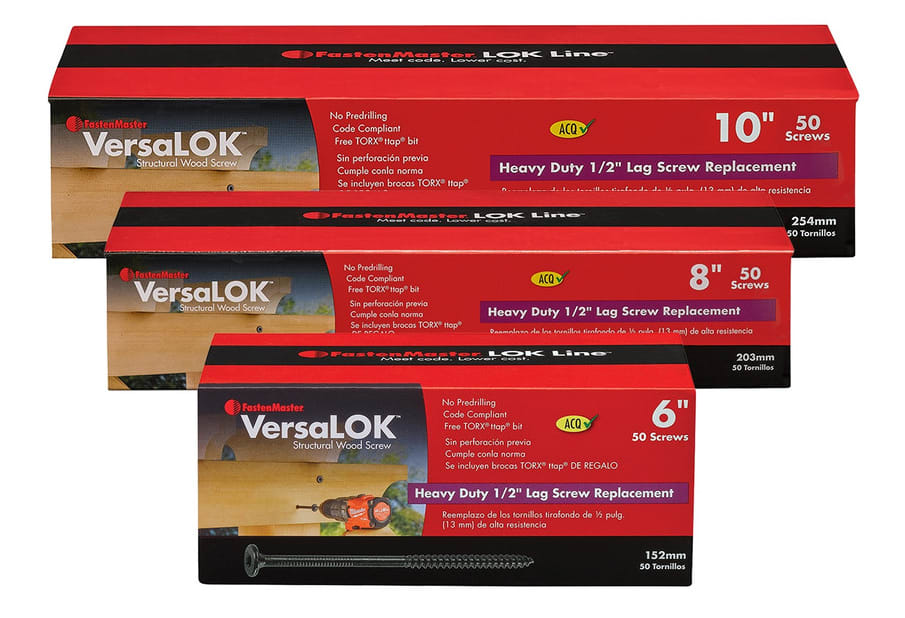 VersaLOK 6" Screws, also in 8" and 10" lengths
And here's a bunch of reasons why:
Tough
This screw was born of fire! VersaLOK screws are heat-treated to maximize strength, so you know you can count on their performance during installation and over time. VersaLOK also has a durable ProjectLife™ coating that provides guaranteed corrosion resistance for the life of your project. VersaLOK screws are in it for the long haul.
Easy
With sharp gimlet points, FastenMaster VersaLOK needs no pre-drilling, installing faster and easier than traditional ½" lags. And the aggressive 3" rolled threads deliver greater holding strength and a higher design shear. What more could you want from your structural screw?

Stable
Can we all agree there's nothing worse than a screw that wobbles like an unsteady toddler during installation? That's not a concern with VersaLOK structural screws: Their superior TORX ttap Drive system provides strong bit engagement and the stability you need for demanding applications. That saves time, frustration, and makes for safer installs.
BONUS: A free TORX ttap bit is included in every box. Think of it as the jobsite equivalent of handing out a cigar.
Clean
The non-countersinking flat head design of the VersaLOK screw creates a clean finish every time to keep your connection sites neat with no splintering or weakening of the surrounding wood. Plus, it just flat-out looks good.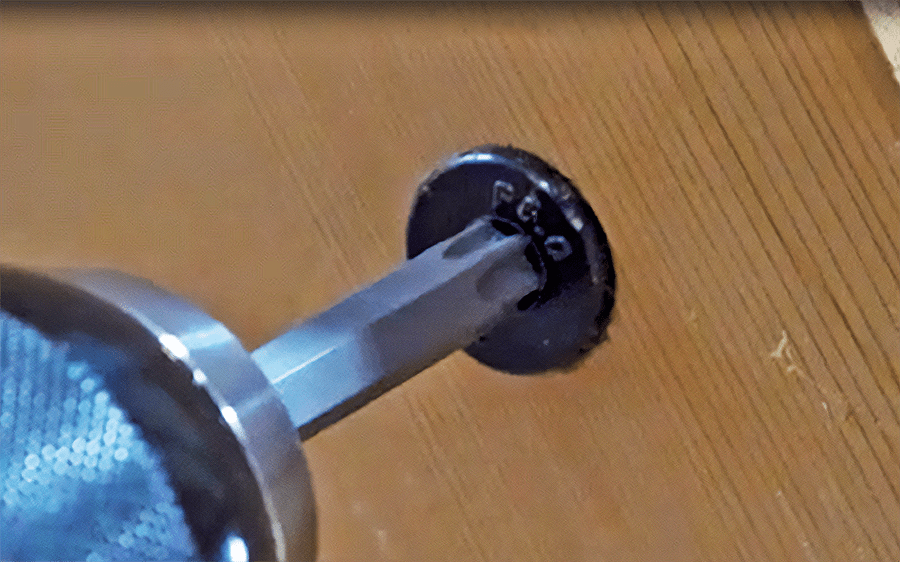 The VersaLOK screw really has it all. As a proud retailer, we could go on and on. But it's time to put this baby to bed… and show you this home movie! (You didn't think you were getting out of here without a VersaLOK video, did you?)

Plan your delivery
We know, we know. After seeing this versatile screw, you want some of your own. Everyone does. With the strength of a 1/2" lag and the installation ease and speed of a LOK, who could resist?
So go ahead: Add FastenMaster VersaLOK to your cart today and create code-compliant wood connections while saving time and money on your next project.
TIP: No stork option, but delivery is free with a $99 order.
Questions? Call on our DIY Home Center experts. They're seasoned pros and they're always happy to offer some advice.