Congratulations on reaching the 15-year mark with your wood deck! This is a significant milestone—and it's an important time to take stock of the condition of your deck. Here we'll cover what you should look for and consider as you evaluate your deck's condition and determine whether repairs or replacement may be necessary.
Why is 15 years significant for wood decks?
Fifteen years is widely recognized as the point when many wood decks will show their age, reflecting the natural breakdown of wood and the impact of weather, use, and other factors that accumulate over time. By the 15-year mark, these compound effects can take a toll on your wood deck. That's why it's critical at this point to carefully inspect your deck and address any issues to ensure safety and enjoyment in the years ahead.

Deck Inspection

Regular inspection of your wood deck is crucial to make sure it's safe, structurally sound, and in good condition... and at the ripe old age of 15, it's definitely time for a thorough examination. This list will get you started; a complete top-to-bottom, professional inspection is recommended:
1. Check for signs of deterioration

Look for cracks, splinters, warping, rot, and other damage that may have occurred over the years. Pay special attention to areas that are exposed to the elements, like the deck surface, stairs, and railing—but don't neglect what's happening underneath the decking.
Take a look at the joists, beams, posts, and footings. Examine the ledger board that attaches the deck to your house for signs of rot or decay. If you have any concerns about strucutral integrity or see signs of ledger detachment, contact a deck professional right away.

Check out Trex Seal: State-of-the-Art Protection for Deck Ledgers for information on ledger board protection.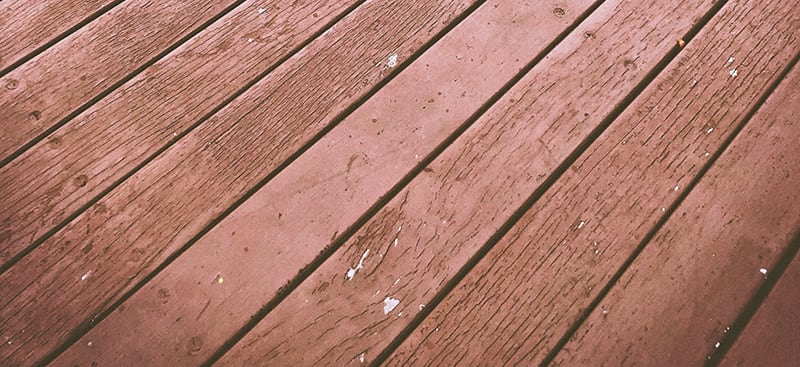 2. Evaluate deck safety
Consider the overall safety of your deck. Are the railings sturdy and in good condition? Are the stairs stable and secure? Do you have any loose boards or popped fasteners that could pose a trip hazard?
Refer to Time for a Deck Check for a useful checklist of items to consider and address to help keep your deck safe and ready for use.
3. Assess maintenance needs
Evaluate your deck's upkeep. Has it been regularly cleaned and sealed over the years? Have you replaced any damaged boards or fasteners? Have you kept nearby trees and shrubs trimmed back to prevent debris buildup and wet conditions on your deck? If your deck hasn't received regular maintenance, it may have been more susceptible to damage and decay over time.
If your deck is currently in need of a good cleaning, check out wood deck cleaners and brighteners from Penofin and DeckWise.
Deck Repair vs. Replacement

If the state of your older deck is less than ideal, you'll need to decide whether to repair or replace it. To help you make an informed decision, consider seeking the advice of a qualified deck pro. They can provide expert guidance on maintenance, repairs, and safety standards, and advise when replacement is your best option.
Deck Repairs
If your wood deck is still solid and in generally good condition but shows signs of wear and tear, repairs may be a viable option to extend its lifespan.
While some deck repairs can be done by the homeowner, certain repairs may require advanced expertise. In the case of significant structural damage, for example, you'll want to consult with a deck professional to determine the best and safest course of action.
Some common repairs that you might consider undertaking yourself or contracting out include:
1. Replace Damaged Decking Boards
If your deck has any cracked, splintered, or rotting decking boards, swapping them can help restore your deck's appearance and safety. Replacing damaged boards with new ones that match your existing decking material sounds fairly simple, but matching boards to your old decking can present a challenge.

When replacing an old deck board with a new one of the same material, there may be differences in color and appearance due to aging and weathering. Over time, the sun's UV rays, moisture, and other environmental factors may have caused your wood decking to develop a patina. If you're replacing just one or a few boards, it could be hard to find an exact match to the rest of the deck, especially if the deck has been exposed to the elements for many years.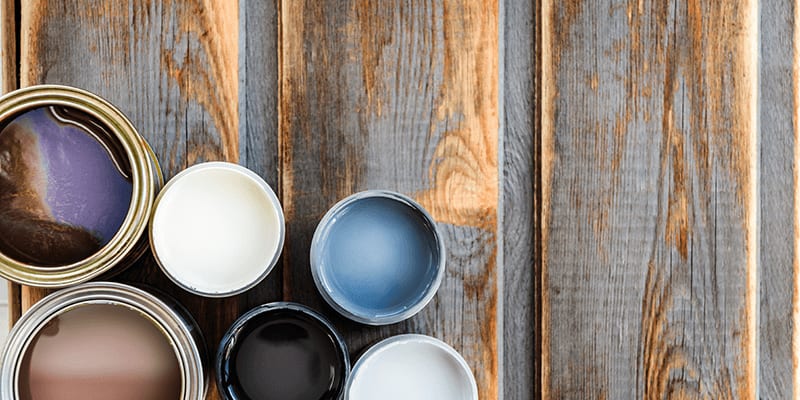 Here are a few ways to handle this issue:
Try to match the color and texture as closely as possible by selecting a board that has a similar grain pattern, age, and level of weathering. Reclaimed materials, including old decking boards, can often be found at salvage yards or through local demolition services. Take a sample of your decking along, if possible, to make comparisons easier.
Stain or paint the new board to help it blend in with the rest of the deck.
Embrace the differences in color and texture and allow the new board to develop its own unique patina over time. This can give the deck a natural look with rustic appeal.
2. Replace Railings
If your deck railings are loose, damaged, or showing signs of wear, they may need to be replaced. New railings can upgrade your deck's overall appearance and the security of those using it.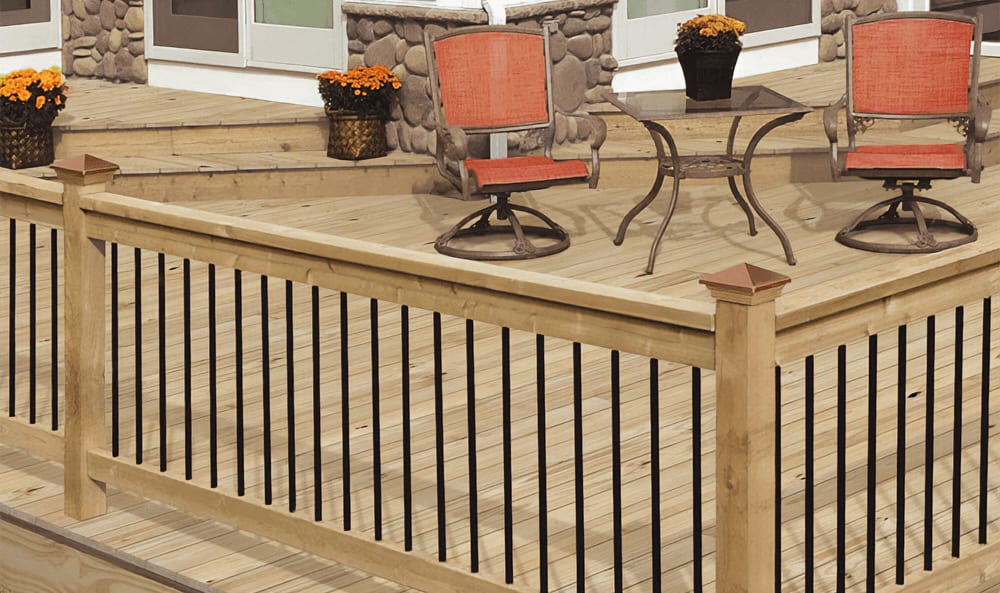 Deckorators Classic Round Balusters
If you have a wooden railing system, think about switching things up with metal mesh, cable, or glass infills for improved views. Or, opt for a metal, vinyl or composite material for the entire system. Either way, you'll get a fresh look that requires less maintenance while providing enhanced durability. Be sure to check out all the railing options at DIY Home Center and take advantage of our free Railing Quote when planning your project.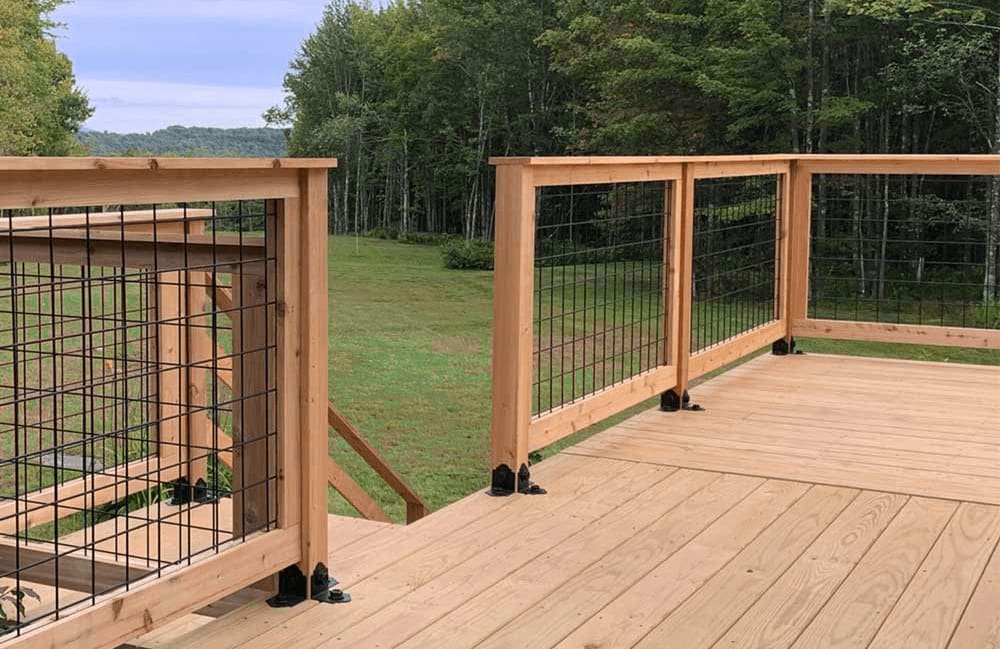 Wild Hog 6 Gauge Mesh Railing Panels
3. Repair Stairs
If your deck stairs are wobbly, unstable, or have loose treads, repairing them can restore reliable access to your deck. You may be able to replace the damaged treads or reinforce the structure of the stairs to make them solid again. Depending on their condition, it may be necessary to remove and replace the entire stairway, including the stringers, treads, and risers. Be sure to check your local building codes and follow all rules, regulations, and requirements.
4. Replace Hardware
Over time, the hardware that attaches your deck to the house or secures the decking boards to the substructure may become loose or rusted. Replacing corroded or weakened hardware and fasteners can help improve the safety and stability of your deck. Get deck fasteners and structural screws for your projects at DIY Home Center.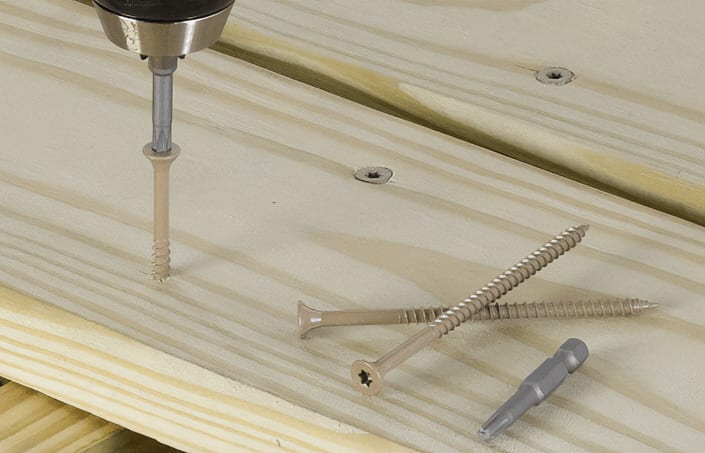 FastenMaster GuardDog Exterior Wood Screws
5. Sand and Refinish
If your deck has a weathered or faded appearance, sanding and refinishing it can help restore its natural beauty. This is also a good time to apply a sealant or stain to protect the deck from the elements and extend its lifespan. For cleaning and sealing, check out the products that deck owners count on from Penofin and DeckWise to protect, restore, and revitalize wood decks.


Penofin Stain and Sealer
Deck Replacement
If your deck is showing significant signs of decline, replacement may be necessary. Safety should always be your top consideration, so consider working with a professional deck contractor who can evaluate your existing deck structure and ensure that your new deck is installed correctly and meets all safety and quality standards.
When thinking about deck replacement, here are some factors to keep in mind:
1. Deck Material
One of the first decisions you'll need to make is what material to use for your new deck. Wood is a popular choice for its natural beauty and affordability, but as you know, it requires regular maintenance and can be susceptible to rot, decay, and insect damage over time. Composite decking, on the other hand, is made from a combination of wood fibers and plastic, and is designed to be low-maintenance, durable, and long-lasting.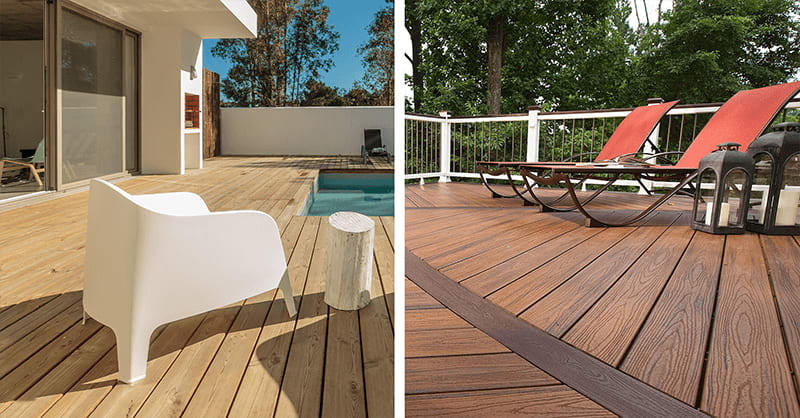 Read Pressure Treated Wood vs Composite Decking for a comparison of materials cost, installation time, and long-term maintenance.
2. Design
When replacing your deck, you'll have the opportunity to customize the design and layout to better suit your needs and preferences. Take into account the furnishings and other items—like your grill, fire pit, and deck storage—that you'll want on your deck and make sure you allow adequate room so the area feels comforatble, not crowded. Consider factors like shape, color, and additional features like railings, built-in seating, and lighting.
Explore solar options with Shedding Light on Solar Deck Lighting, and find out how to Control Your Trex Deck Lighting from Anywhere with their plug-n-play WiFi controller.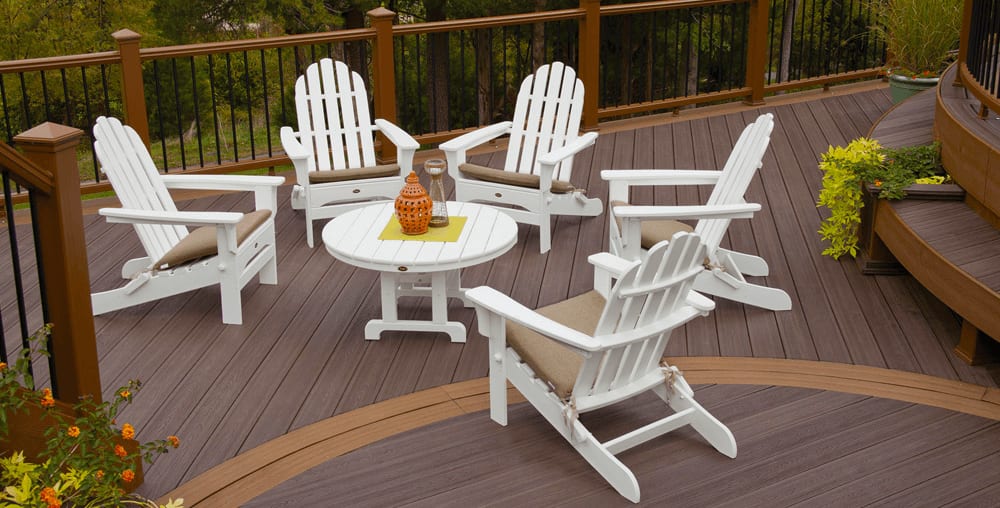 Trex Outdoor Furniture Cape Cod Folding Adirondack Chair on a composite deck with inlay
3. Budget
Cost is always a consideration when undertaking a major home renovation project like deck replacement. While composite decking can be more expensive upfront than wood, it may offer greater cost savings over time due to its lower maintenance requirements. However, another wood deck with a lower materials cost may allow you to build (and start enjoying) your new deck right away versus waiting to save up for a more costly project.
4. Permits and Regulations
Depending on where you live, you'll need to obtain permits and comply with local building codes and regulations when replacing your deck. Be sure to research these requirements and factor them into your budget and timeline.
5. Existing Features
Think about any existing features on or around your deck that you may want to keep or modify, such as landscaping, a hot tub, or pond. Take into account how your new deck design will integrate with these elements.
6. Future Plans
When planning for a new deck, keep your own long-term plans in mind. Consider how long you plan to remain in your current home, and whether you might sell it in the coming years. A new deck can undoubtedly increase the value of your home, but weigh the cost of the deck against the potential value it may add to your property if you do sell.
TIP: Building a new deck for your own enjoyment is the best investment of all!
What's next for your wood deck?

As you cross the momentous 15-year mark with your wood deck, take time to consider its condition and evaluate whether repairs or replacement are needed. But don't let the prospect of repairs or a new deck be a source of stress. Instead, see it as an opportunity to continue adding to all the wonderful moments you've had on your deck over the years. With timely maintenance and repairs to your existing deck—or a brand new one—you can look forward to creating many more backyard memories with your family and friends.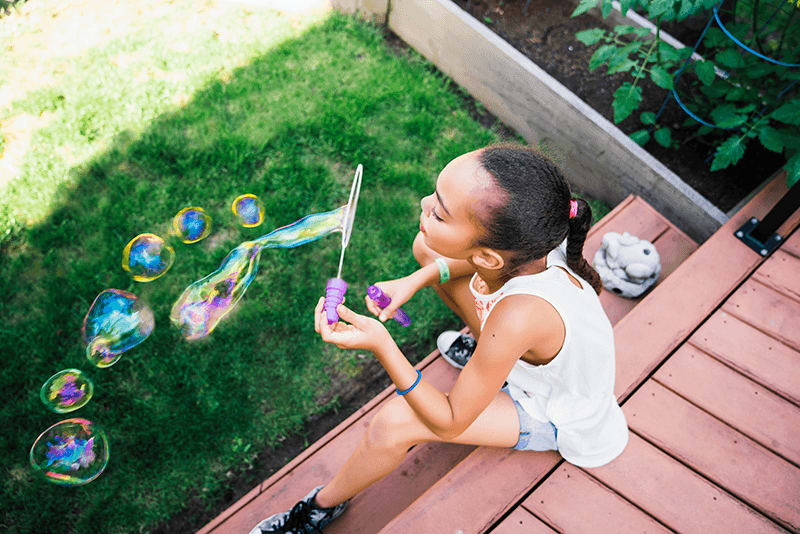 ---
Be sure to check your local building codes before starting your deck project and follow all rules, regulations, and requirements.