When asked about enjoying time on a deck, most describe stretching out in a comfy lounger, summer cookouts, and entertaining guests. And when they describe the scene, it's most often a bright, sunlit day that they're envisioning. We know that those perfect sunny days are what deck season is made of… but that's only half the story.
As daylight gives way to dusk, then darkness, you don't want to have to call it a night!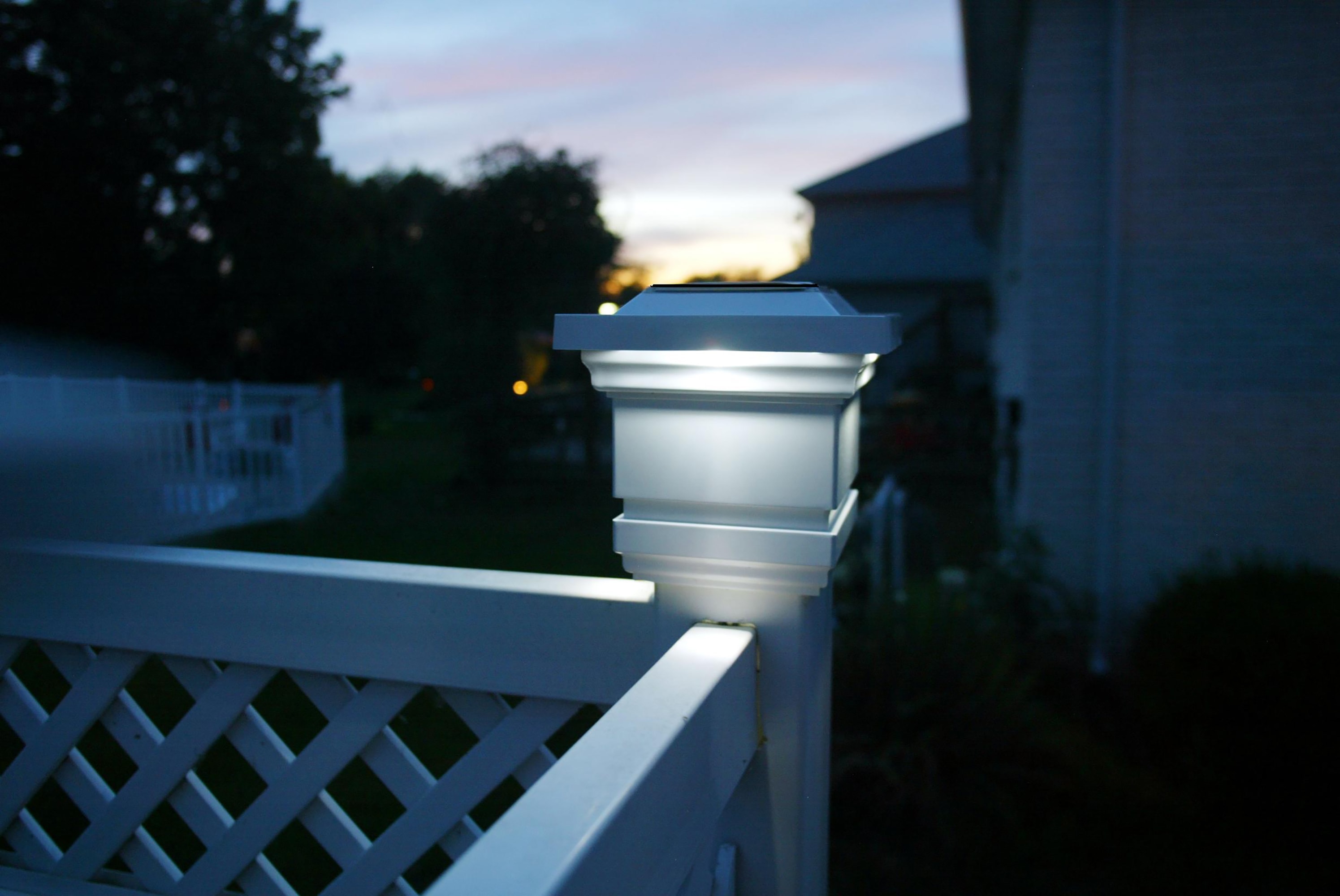 Classy Caps Majestic Solar Post Cap
Adding lighting has been reported as the number one change order that deck builders receive from their customers: It's easy to forget that you're likely to spend many hours on the deck after sunset—maybe even more than you do during the day! That can especially be true if you're working a 9-to-5 schedule and find yourself most often heading out to the deck after dinner.
Wiring wary?

Lighting helps ensure that you're getting as much use as possible from your favorite outdoor retreat… but what if you have an existing deck and you now want lighting, but not the cost of an electrician? Or you're building a new deck in a location where running electrical isn't feasible? Maybe the thought of adding to your monthly power bill is off-putting.
Solar lights, such as Classy Caps, Deckorators, Aurora Deck Lighting, and Color Guard options, may be the bright idea you need for your deck. Both offer sizes to fit popular railing and post sizes, so if your deck manufacturer only offers low-voltage lighting, you can still opt for a solar solution.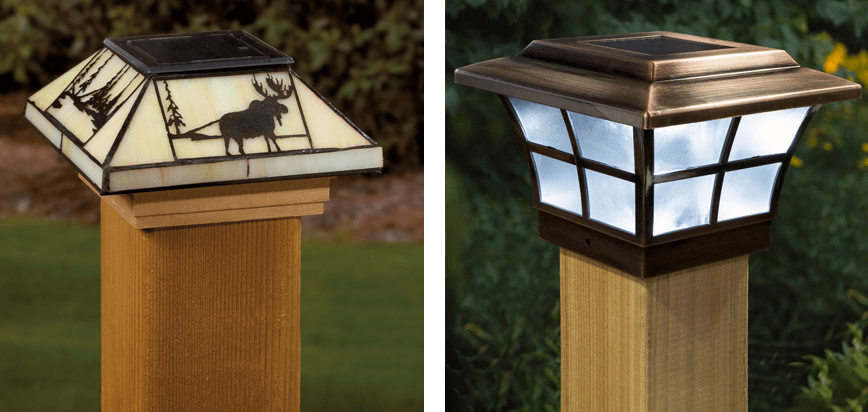 Deckorators Northwoods and Classy Caps Prestige Solar Post Caps
Shine with solar!

Even if you're not on your deck during the day, you can still benefit from the day's sunlight during the evening hours with solar lighting.
A solar deck light uses energy from the sun, making it both an eco-friendly and cost-effective lighting solution. A small solar panel absorbs sunlight during the day and converts it into electrical energy. The energy is then stored in a rechargeable battery inside the light.
When the sun goes down on your deck, a sensor detects the decrease in light and turns on the LED bulbs. They use very little energy, glowing for hours using the energy stored in the battery.
TIP: Before installation, charge your solar lights by setting them in direct sunlight for 6-10 hours. When the sun sets on installation day, you can bask in the glow of your DIY light install and take in the full effect without delay.
With no electrical requirements, solar lighting is suitable not only for your backyard deck, but also for remote areas and locations near water, such as pools and docks.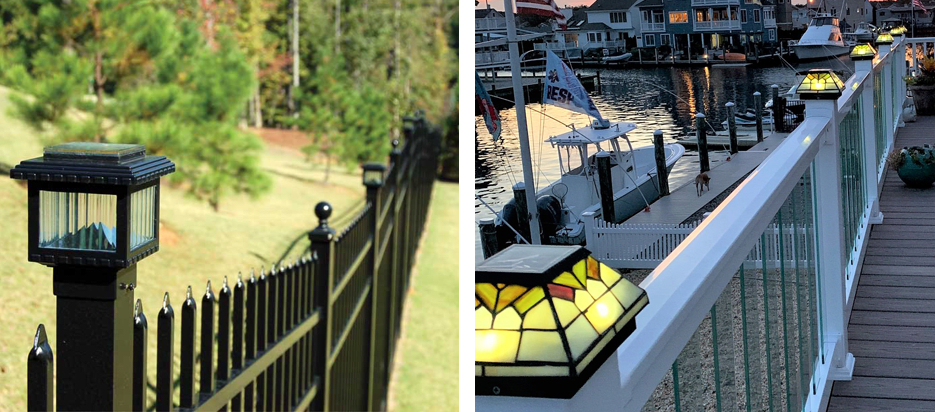 Aurora Deck Lighting Polaris and Classy Caps Wellington Solar Post Caps
Read on for the pros and potential cons of solar deck lighting to consider when deciding how best to illuminate your outdoor space.
Advantages of solar deck lighting
Solar deck lighting is a sustainable and budget-friendly option for illuminating your deck without the need for electricity. Its soft, ambient glow creates a warm and inviting atmosphere for you and your guests.
Additional benefits of choosing solar-powered lights for your deck include:
Ease of installation
Solar deck lighting is easy to install because it doesn't require any electrical wiring. This makes it a good choice for DIYers, those who aren't experienced with electrical work, or those who want to avoid the hassle of running wires.
Cost savings
There are no ongoing electricity costs to operate solar deck lights.
Energy efficiency
Solar deck lighting is powered by the sun, a renewable energy source.
Flexibility
Solar deck lighting can be installed in locations where wired lighting isn't possible or practical. For example, it can be placed in areas that are far from electrical outlets, where digging and trenching to run wires isn't feasible, or near water.
Low maintenance
Solar deck lighting requires very little maintenance because it has no moving parts and doesn't rely on electricity.
Limitations of solar deck lighting
Solar lighting may be the perfect fit for your deck, but before you finalize your decision, here are some constraints to consider as well:
Limited brightness
Solar deck lighting provides an ambient light, so it's generally used for accent or decorative lighting. It may not be suitable for areas that require a lot of light for safety, such as stairs or walkways, or for task lighting.
Location and weather dependency
Performance is dependent on the availability of sunlight. If it's cloudy or if the solar panel is not receiving direct sunlight due to trees or eaves, for example, the lights may not fully charge the battery, resulting in dimmer or shorter-lived lighting at night.
Limited run time
Solar deck lighting will run for a limited number of hours before recharging is required which may not be sufficient for some. By contrast, wired lighting can run continuously.

TIP: Classy Caps reports solar light run times during the summer of 8-12 hours with times of 4-6 hours during the winter in northern climates and 6-8 hours in southern climates. Aurora Deck Lighting reports run times of up to 14 hours during the summer and 3-6 hours during the winter.
Battery replacement
The batteries used in solar deck lighting will eventually wear out and need to be replaced.

TIP: Replacement batteries are easily found at your local hardware store or on Amazon.
If any of these limitations are deal-breakers, no worries. There are plenty of low-voltage and LED wired solutions from Trex DeckLighting, TimberTech, DekPro, Deckorators, Aurora Deck Lighting, and LMT Mercer Group to light up your nights.
Putting a (solar) cap on it

Ultimately, choosing the right lighting option will enhance the beauty and functionality of your deck, making it a more comfortable and enjoyable place to relax and entertain.
The costs and concerns that accompany a wiring project can be daunting, but with options like Classy Caps, Aurora Deck Lighting, Color Guard, and Deckorators solar post caps, you can illuminate your deck in minutes, cost-effectively, and in an eco-friendly way.

Classy Caps Kingsbridge and Color Guard Neptune Solar Post Caps
And with that, the sun has set on this topic. Time to go light up your deck!