How Do the Two Most Popular Types of Decking Stack Up?
Whether you're resurfacing your deck or building a brand new one, a big decision is what type of deck boards you want to install. The two most popular options are pressure treated wood and composite. We've compared these two options based on three categories: cost of materials, installation time, and maintenance over time.
| | |
| --- | --- |
| | |
| Pressure treated wood | Composite decking |

Cost of Materials
Costing around $1.25–$5.60 per linear foot*, pressure treated lumber is a familiar product for pros and DIYers that won't break the bank. However, you'll also need to factor in the fastener cost. You can use any face screw with pressure treated wood, but it will come at the expense of making repairs down the road. So consider investing in a face screw that won't crack or split the board or using an edge fastening system that leaves the board's surface free from fasteners.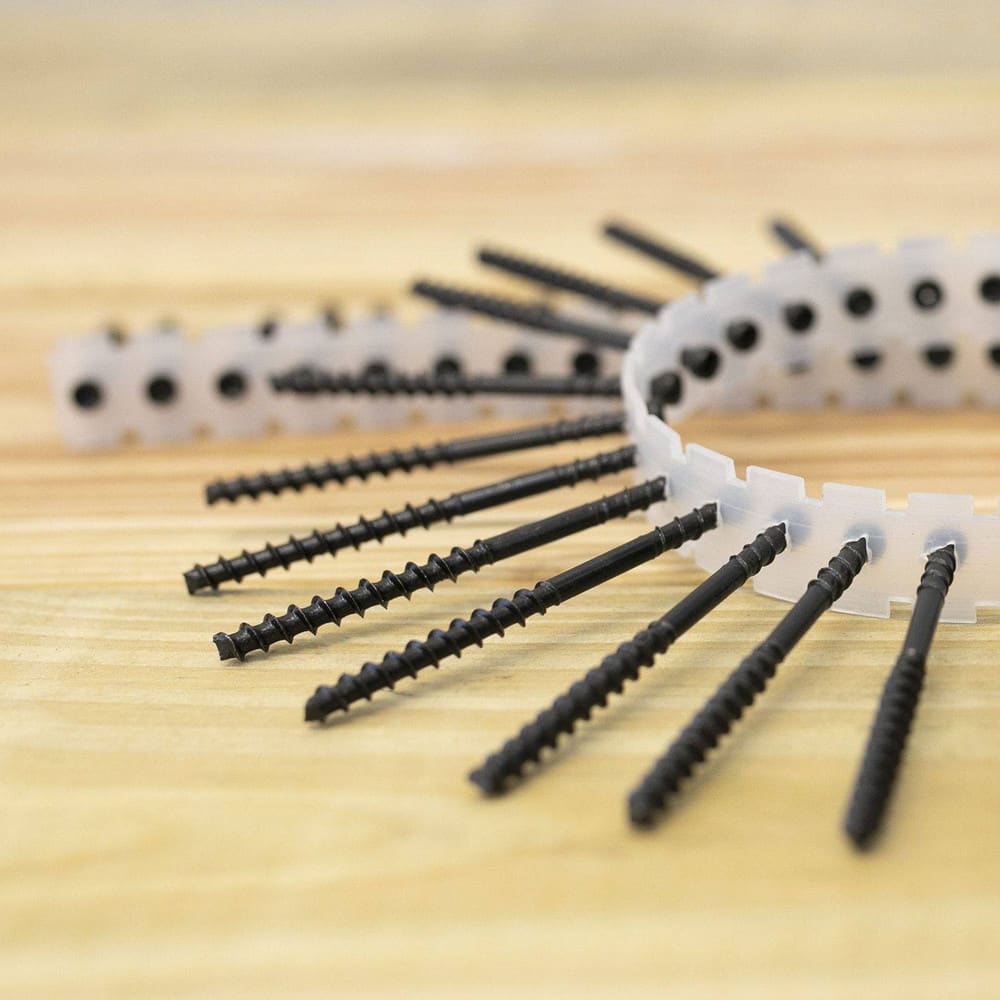 CAMO Collated Edge Deck Screws
Composite decking manufacturers offer square and grooved decking at various price points, so you can find one that fits your budget, but you can expect to pay somewhere between $2.90 and $6 per linear foot*. When it comes to fasteners, you could use a color-matched composite screw or spend a little more on a hidden fastener that results in a higher-end finish. For square decking, consider an edge fastening system that secures the board through the edge, and for grooved decking, use Universal Deck Clips for a secure install.
Installation Time
Depending on the quality of pressure treated boards you get, you may have to spend some time straightening each board before you can fasten. To speed up that process, check out a tool like the CAMO LEVER to straighten warped boards effortlessly.
PRO TIP: Make short work of every deck installation with the CAMO LEVER Pro Pack and get more done with fewer crew members—you can even build a deck by yourself. Just lay your boards, set the three tools on your joists, lock them in, and start fastening.
Then, you can drive the screws by hand, bending over at each joist or moving around on your knees. If you want to save time—and your body—you could use a collated fastening tool that allows you to fasten while standing.

Although you won't have to straighten them before fastening, square composite deck boards will take a similar amount of time to install compared to pressure treated boards. You can use color-matched face screws for a quick solution or a hidden system like plugs or Edge fastening, which will take a little longer but provide a better result.
Grooved composite decking is the fastest to install if you use Universal Deck Clips, which allows you to set multiple boards and clips before fastening. In addition to our easy-to-use clips, CAMO offers two stand-up tools, the ClipDRIVE and DRIVE, that speed up installation.

Deck Maintenance Over Time
After installation, you will spend more time working on a pressure treated deck to keep it looking its best and maximize its lifetime of about 15 years**. That means you'll be investing time every year to pressure wash, sand, repair, and stain your deck.
Composite boards, on the other hand, endure weather better, repel insects, and don't require paints or stains. After installation, a simple sweep and scrub every year will keep the surface looking new. Plus, manufacturers often have warranties on their composite boards, giving you peace of mind over their lifetime of about 20+ years.
Ultimately, deciding between wood and composite comes down to personal preference and how much time and money you want to put into your deck. Whichever board you choose, you can always take steps to build better to make your deck look great and last.
---
Thanks to CAMO for contributing this guest post. For the products referenced and more, shop the CAMO Store at DIY Home Center.

*Wood Deck vs Composite Deck: Which One Is Right for You?, familyhandyman.com
**Pressure Treated Lumber Deck Installation Cost & Price Guide, deckcostguide.com