In today's connected world, you can remotely control your thermostat, your security camera, and even your coffee maker. So of course, you want to be able to conveniently control your deck lighting from an app as well. And naturally, you can count on Trex to make outdoor living even more relaxing by putting lighting control right in the palm of your hand.
With the Trex WiFi Controller, you have the power to monitor your lighting status, set schedules, and fine-tune the brightness of your Trex deck lights, all from your Android or iOS phone.
Lighten Up with Trex
The Trex controller is compatible with their LightHub connection system which provides easy plug-n-play installation for the entire Trex OutdoorLighting line, so you don't have to be an electrician—or even hire one—to add some light and create a little ambience. No electrical skills are needed: Just plug in your Trex lights and enjoy a dimmable glow that keeps your backyard retreat inviting and safe.



Trex Deck Rail Light, Post Cap Light, and Stair Riser Lights
Did you know?
Trex deck lights use long-life LEDs from CREE, a worldwide leader in energy-efficient lighting. Compared to incandescent, Trex deck lighting uses 75% less energy.
Now, you don't want to get up from that relaxing lounger or leave your party to turn the lights up as the sun sets or step away from your sweetheart to dim them for a more romantic atmosphere, do you?
Take Control of Your Deck Lighting
Happily, you can control up to 60 watts of energy-efficient Trex LED lights on your railing, stair risers, or deck from anywhere with the Trex WiFi Controller!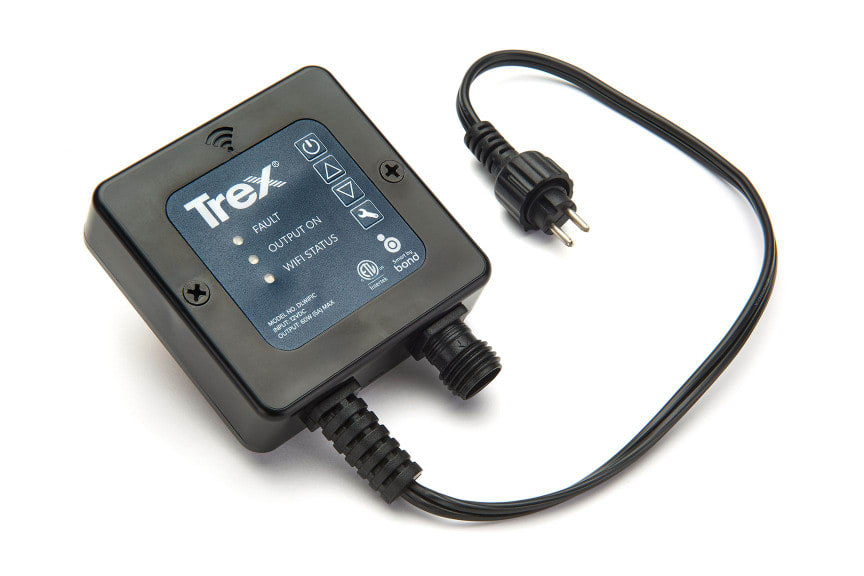 Trex OutdoorLighting WiFi Controller
It's a great option to keep you in control and where you want to be when entertaining or kicking back, and allows you to easily turn off the lights from the house after lingering guests have made their way inside. By setting a schedule, the controller can automatically turn off the lights each night so you'll never forget them again, or create the impression of an occupied home when you're away.
How to Install the Trex WiFi Lighting Controller
Whether you're brightening your outdoor space with Trex LED deck lighting, or you already have a Trex Plug-N-Play lighting system installed, adding the power of the WiFi Controller is quick and easy. Like the Trex lighting, no hard-wiring is required, making it simple and quick to install for deck pros and DIYers alike.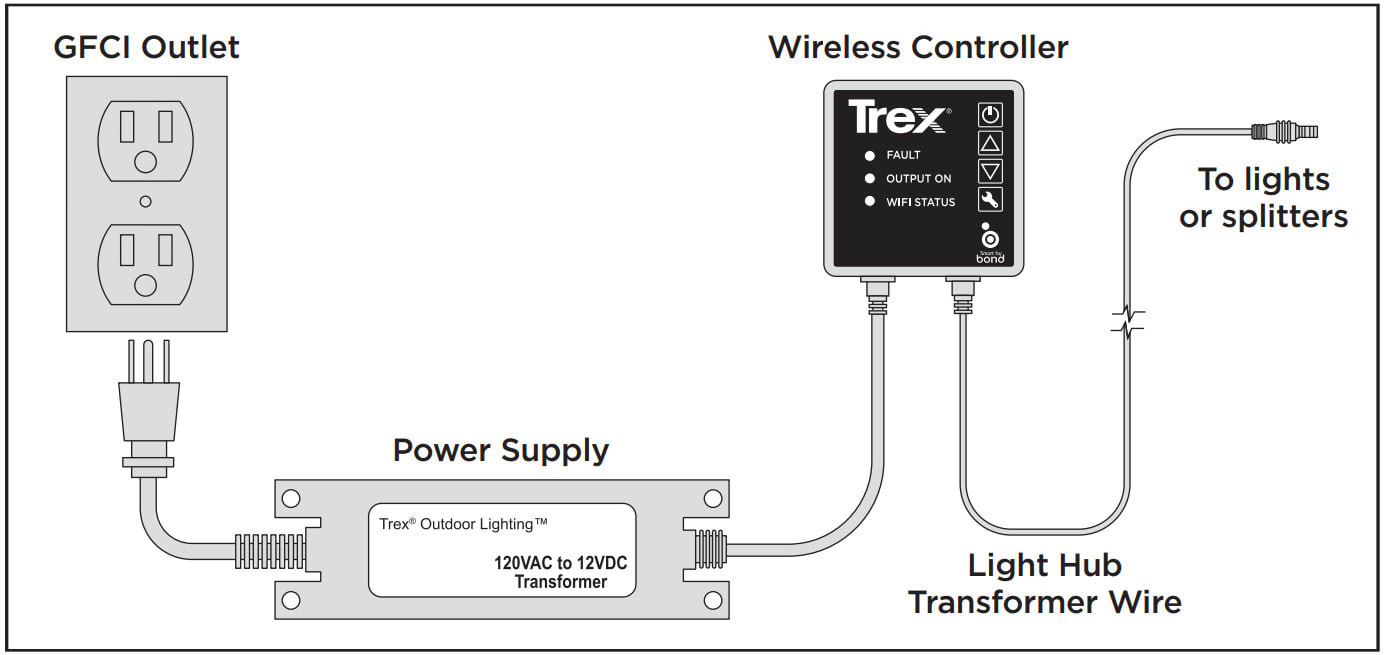 Trex WiFi Controller Installation
With the power supply unplugged, connect the input lead of the Trex WiFi Controller to the Trex Transformer. Connect the LightHub Transformer Wire to the output terminal of the Trex WiFi controller, then to the first light installation.
When making connection between a LightHub connector or splitter, observe the polarity key to make a proper connection. The male and female connectors have a flat side that must match up. Do not force the connections together.

LightHub connectors are waterproof, but for increased protection the dielectric grease should be added prior to connection.
Plug the power supply into a GFCI-protected wall socket.
If you see the red "FAULT" light, your system has reversed polarity. Check the polarity key on your input cable and correct any problems before proceeding.
Mount the WiFi controller in place with the included adhesive strips or 1.5" black wood screws.
Trex WiFi Controller Setup
On an Android or iOS device, download the Bond Home App.
Create an account and sign into the app.
Select "Smart by Bond" and follow the in-app prompts to add the Trex WiFi Controller to your account and connect it to your home WiFi network.

Bask in the Glow
Whether illuminating your stairways with LED step lights or defining the perimeter of your deck with post lighting, the long-lasting glow of Trex lighting highlights the beauty of your deck while providing safety and atmosphere, and extending your time outdoors. With the Trex WiFi Controller, control of your lighting is always as close as your mobile phone, no matter where you are... making your outdoor living even brighter.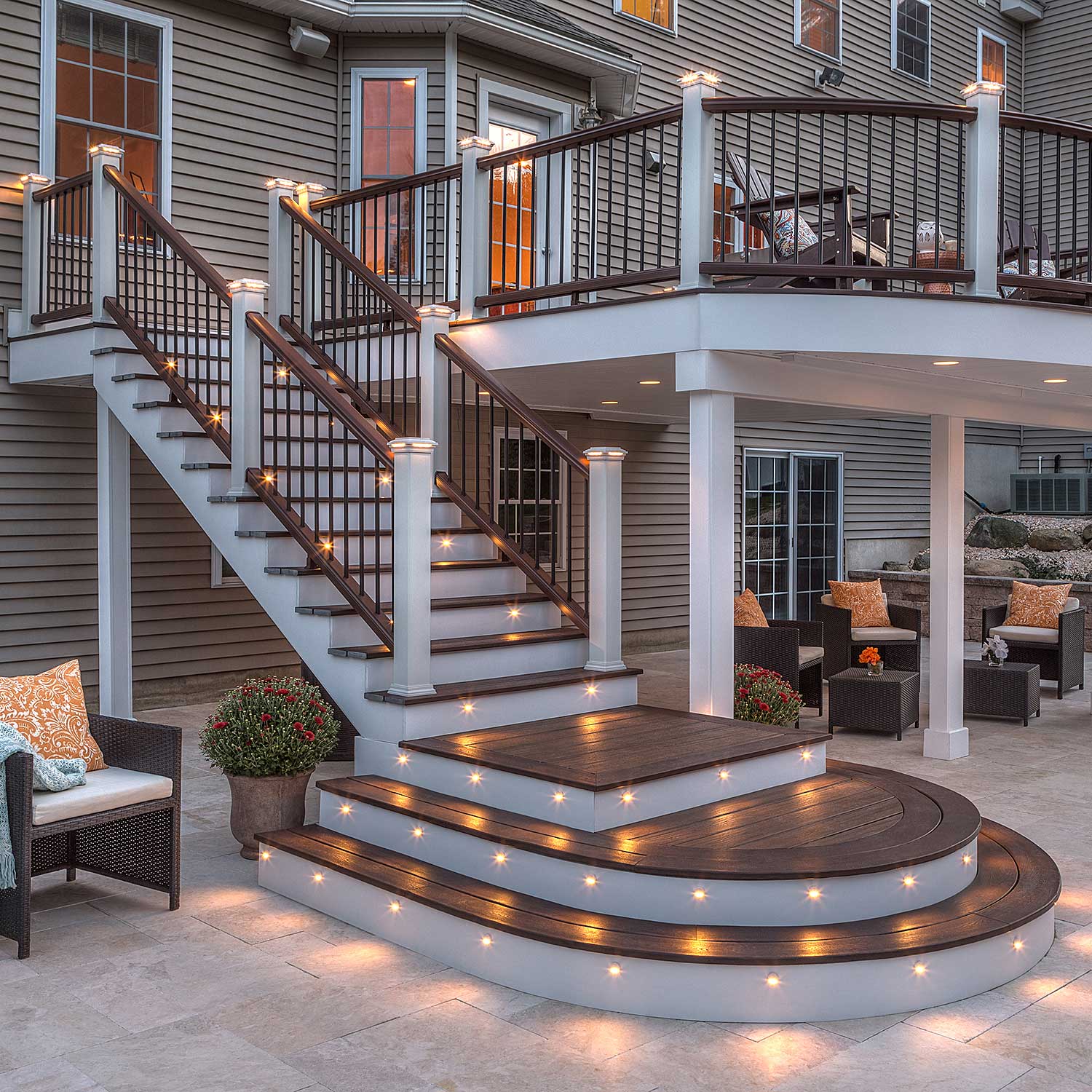 Do you have questions about the Trex WiFi Controller? Contact us—we're happy to shed some light!