If you're a seasoned deck professional, you likely already know and appreciate the value of a good jig. Maybe you've even created some of your own over the years to quickly accomplish those common tasks that come up time and again.
For those new to deck building, including weekend warriors tackling a DIY deck project for the first time, a jig may not be on your tool checklist yet, but it should be. A jig provides:
Repeatability
Accuracy
Speed
If you've experienced the power of a jig before, you already know the satisfaction of discovering an easier, faster, and very precise way to accomplish a task that could otherwise be painstaking, time-consuming, and error-prone.
That's why the Quick Jig will become your best friend during your DekPro Prestige Aluminum Railing installation.

DekPro Quick Jig Rail Guide
Savings for Pros
The time saved by the reliable DekPro Quick Jig Rail Guide makes it a great choice for streamlining your Prestige Aluminum Railing installations—and that's good for business. As a deck pro, you can benefit by using one yourself. And if you supervise a team, get a jig into the hands your newest crew members.
Armed with the Quick Jig, they can easily begin installing post brackets without errors, making them more productive—with less oversight—from Day One. And, by preventing misplacements, the jig can also reduce potential waste and reorders that could result from miscalculations with the drill.
Confidence for Beginners & DIYers
If you're new to deck building and want to "do it right" when it's time to define the perimeter of your new deck with Prestige Railing, this jig is just what you need. Forget about making measurements and marking your posts with dots or X's, hoping you've got the height and centering right before you grit your teeth and commit to drilling holes in your posts.
The Quick Jig gives you the confidence to attach your railing like a pro, without the worry of drilling holes that are off the mark and the headache of misaligned brackets that follows.
DekPro Quick Jig Rail Guide
The Quick Jig is a sturdy, reusable aluminum template that guides the drilling and fastening of the rail brackets on your Prestige Aluminum Railing posts so you can achieve the perfect placement, every time.
The Quick Jig is available in both 3-inch and 4- inch sizes for 3" Prestige Posts and 4" Prestige Post Sleeves with a top rail bracket guide for 38" and 42" rail heights and a bottom rail bracket guide that provides a 3-1/8" sweep.
TIP: You can also use Quick Jig to plumb your posts using the attached 2-way level.
Prestige Rail Bracket Installation
Use the DekPro Quick Jig for level Prestige Railing sections to eliminate the time and hassle of manually measuring and centering your rail brackets.
Clamp the jig on your post to determine your bracket placement.
Place your brackets into the Quick Jig openings (pre-drill holes first if you like).
Install the top and bottom brackets onto the post in their assigned locations with two self-drilling screws each.
Then remove the jig and you're ready to take on the next post.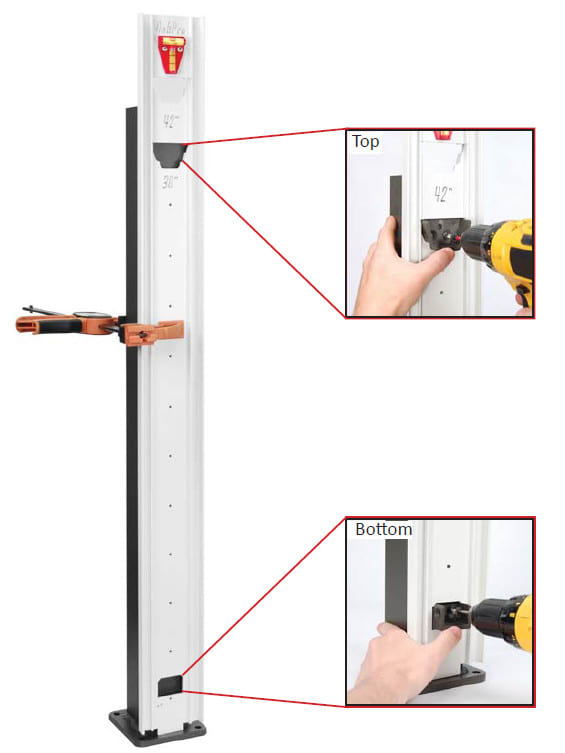 For a look at the Quick Jig in action during the installation of a DekPro Prestige aluminum post, watch this short video:
About DekPro Prestige Railing
DekPro Prestige Railing combines elegant form, superior function, and precision engineering. Featuring all aluminum components and a durable, powder-coated finish, this affordable low-maintenance rail system is built to last and backed by a limited lifetime warranty. For more information, shop our DekPro Store and check out these additional How-To Center posts:
TIP: Get started on your railing project with a free Railing Quote from the helpful experts at DIY Home Center!
---
Be sure to check your local building codes before starting your deck project and follow all rules, regulations, and requirements.