We all have our favorite tools. Trusty and reliable, they help us get it done right by efficiently tackling the job at hand and delivering professional results.
That's why when it comes to straightening stubborn, warped boards, deck installers in the know reach for the DeckWise Hardwood Wrench, the beefiest deck board bending tool on the market. Its durability and sheer toughness make it a go-to for hardcore deck contractors who demand the most from their tools.
But what if you want a lighter board-bending solution, whether you're a one-person crew or rolling up your sleeves for a weekend project?
Introducing the Hardwood Wrench Jr.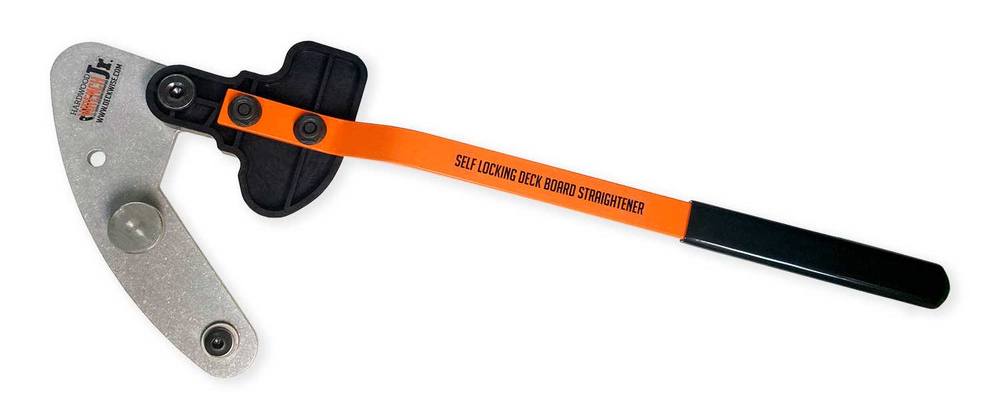 (We predict this tool will earn favored status on your next deck project.)
The DeckWise Hardwood Wrench Jr., a compact 19" version of the trusted Hardwood Wrench board bender, tames unruly hardwoods, thermal woods, pressure-treated lumber, and composite materials with ease—just like its predecessor—only it's lighter in your hand and friendlier on your wallet.
Look Ma, One Hand!

Wrangling rebellious deck boards that just aren't quite straight comes with the territory when installing a deck. This struggle with warped boards is magnified when you're flying solo on a job or taking on a DIY project.
And if you're trying to tame those warped boards with a pry bar or chisel... well, what can we say? Don't. There's a better way, and it's the Hardwood Wrench Jr.
The Hardwood Wrench Jr. is one of the most advanced board straightening tools ever created for edge-groove and face screw board fastening. With a rotating cam that can dish out an impressive 1,100 lbs. of force, this tool is all about bending boards into submission and making your deck board installation a breeze.
Say goodbye to the struggles. Say hello to the tool that provides you with what DeckWise calls "One-Man, One-Hand Installation." Call it a superpower if you want. We do.
Easy as 1-2-3

Using the Hardwood Wrench Jr. couldn't be easier. Start by setting your deck boards in place to install hidden fasteners or face screws.
When you encounter a rogue board, position the Hardwood Wrench Jr. onto a joist (it plays nice with both single- and double-joist configurations). Slide it up the joist so the locking cam touches the edge of the warped board.
Now, effortlessly swing the handle upward to lock the board into a straight position and ta da! You're free to continue installing deck fasteners without frustration, delay... or a second set of hands.
1: Place the Hardwood Wrench Jr. tool on the joist.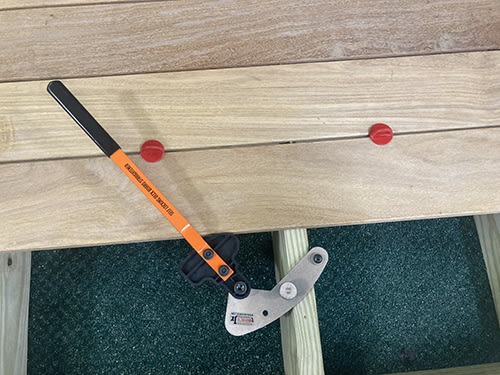 2: Rotate the handle to straighten the deck boards.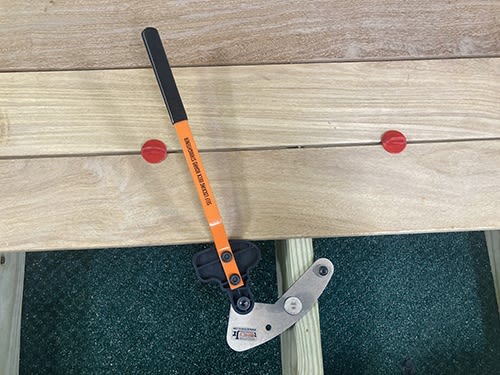 3: Cam locks in place holding boards straight while fasteners are installed.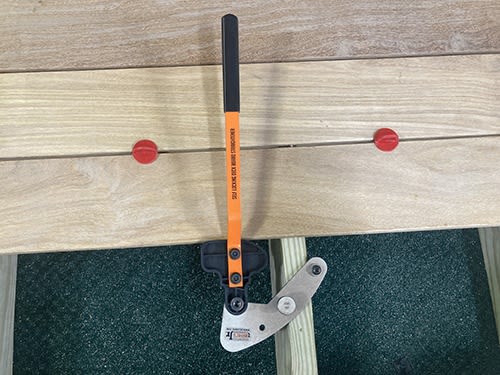 The Perfect Combination

Straightening and securing your boards in place is a snap thanks to DeckWise-patented technology and these handy Hardwood Wrench Jr. features:
Self-Locking Cam: Simply turn the handle, and your boards are securely locked in position.
Mighty Pushing Force: With a jaw-dropping 1,100 lbs. of pushing force, the Hardwood Wrench Jr. flexes its muscles on the job.
Solid Grip: Sturdy steel pins grip joists like a champ, ensuring rock-solid stability while fastening.
Righty or Lefty: Designed for both right- and left-hand use, your choice.
Reversible Handle: Tight spots? No problem. The reversible handle adapts to your work environment.
Joist Adjustable: Whether you're rolling solo on a single joist or doubling down on double joists, it's the perfect fit.
BONUS: The Hardwood Wrench Jr. has no uncooperative wheels or flexible tubing that can slip or spin off the board edge, forcing you to stop fastening just to reset the tool again (and again). Perfect.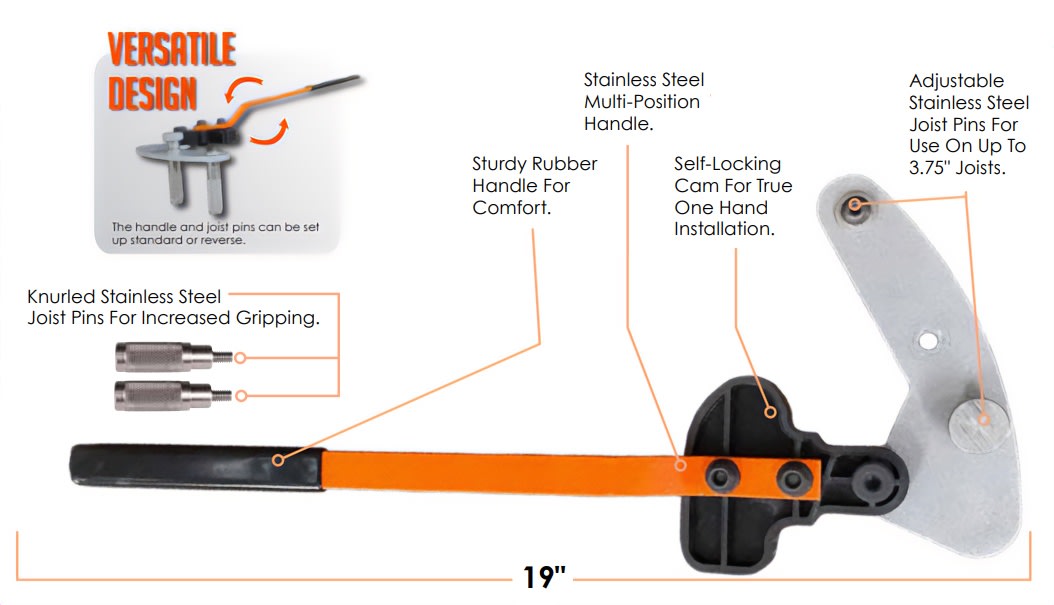 DeckWise Hardwood Wrench Jr. features
Straighten, Fasten, Conquer!

Whether you're on a professional job site or undertaking your own weekend project, the Hardwood Wrench Jr. will turbocharge your deck installation. With its efficiency and user-friendly design, you'll wrap up the job in less time, which means more profit for you... or more time to kick back and enjoy your completed project.
Get your Hardwood Wrench Jr.—and make room in the ol' toolbox for a new favorite.