Imagine a stunning front door surround, a welcoming porch, or an exterior home accent wall featuring the natural beauty and inviting charm of stone.
If you're a homeowner, maybe you're thinking, "I'd love that at my place!" A stone facade would amp up your curb appeal. Unfortunately, the expense of stone materials and the expertise required for installation might make the upgrade feel out of reach.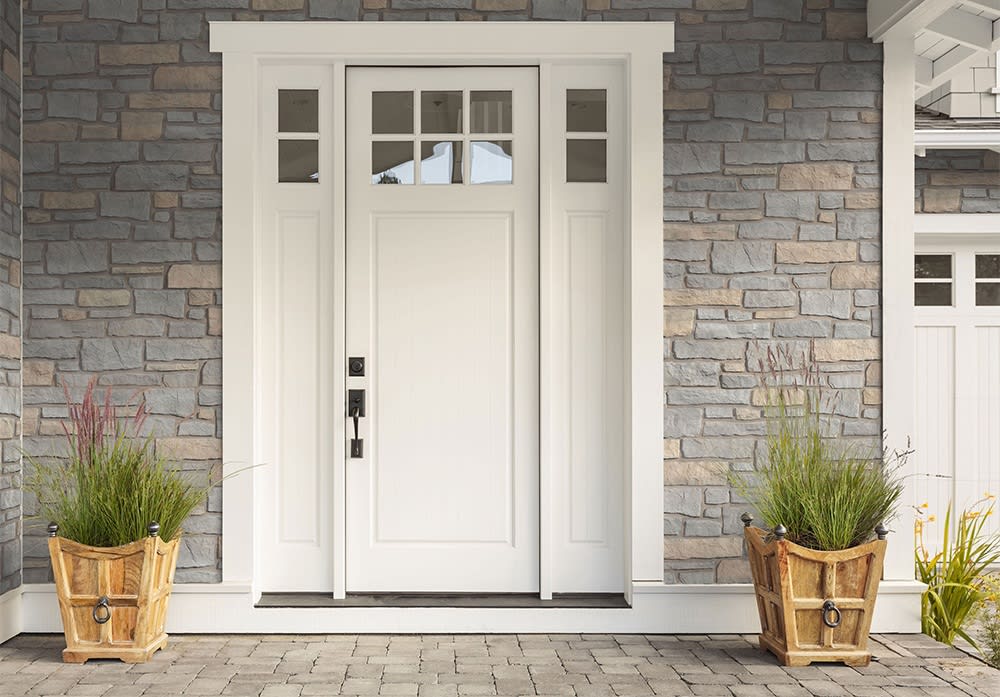 TandoStone Creek Ledgerstone in Nordic Mist
If you're a contractor who doesn't focus on stonework, maybe you're thinking, "That project's going to require specialized tools and sub-contractors. What will that mean for my bottom line?" Maybe you'll pass and not bid the project at all.
Don't let the costs associated with stonework prevent you from introducing the captivating appeal of stone to your home or including mixed material exteriors in your bids!
With TandoStone composite siding, achieving that authentic stone look is easy and affordable—and that's good news for both homeowners and contractors alike.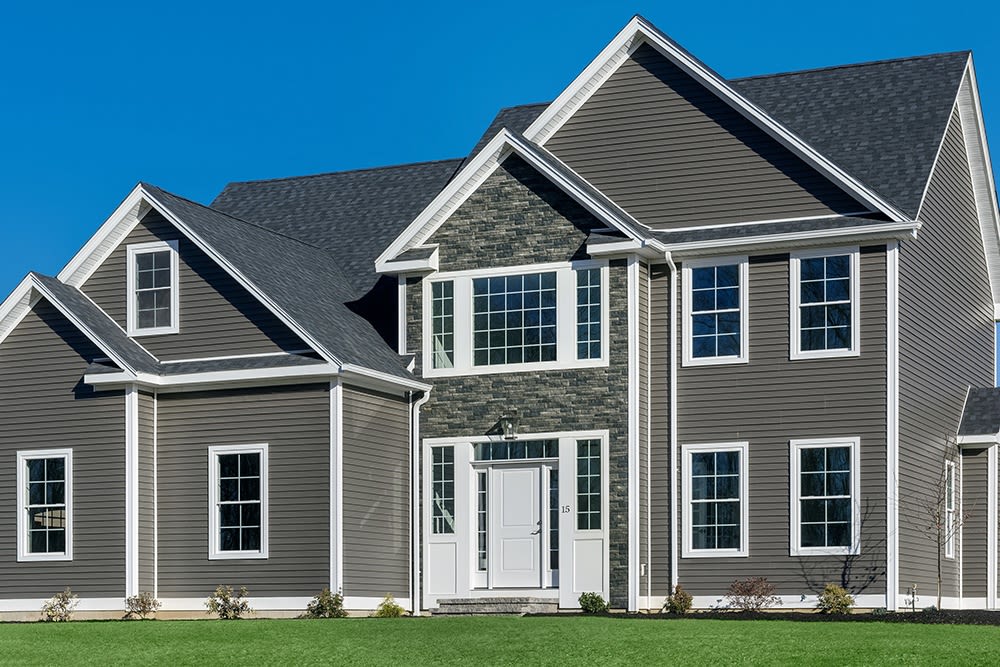 TandoStone Stacked Stone in Lewiston Crest
TandoStone Styles
The first thing you'll notice about TandoStone is the astonishing authenticity of the stone profiles. This composite siding is meticulously crafted by Tando, an industry leader in composite technology with five decades of product innovation to bring the realism (not to mention the durability) you want for your project.
TandoStone is available in two distinctive styles to achieve your transformations: Creek Ledgestone and Stacked Stone.
Creek Ledgestone has varied sized stones set in a strong horizontal ledge. With a rough, dimensional surface and generous grout lines, this style creates appealing natural shadows. Creek Ledgestone is available in five colors (clockwise from left below): Bucks County Gray, Nordic Mist, Appalachian Ash, Rocky Mountain Clay, and Arizona Sandstone. You're sure to find the right complement for your design.

TandoStone Creek Ledgerston colors
Stacked Stone features stones of low heights and random lengths. With a strong linear pattern and minimal grout lines, it's a contemporary, sharp-edged look that complements any exterior finish. For the perfect accent, Stacked Stone is offered in several attractive colorways (clockwise from left below): Chestnut Hills, Glacier Bay, Santa Fe, Sedona Bluff, and Lewiston Crest.

TandoStone Stacked Stone colors

TandoStone Benefits
TandoStone brings the timeless beauty of natural stone to your doorstep—or anywhere else you'd like to introduce its attractive and enduring aesthetic. But its appeal goes beyond good looks. This composite stone also comes with additional benefits that make TandoStone a smart choice.
Simplified Installation
Unlike traditional stone, which often requires specialized tradespeople and subcontractors, TandoStone offers a refreshingly simple installation process. Not only is it lightweight, but it also installs like traditional siding to ensure a hassle-free transformation. And while stone projects involve mortar and dust, TandoStone's composite stone avoids that mess completely: It requires no mortar or adhesive for installation, and it can be cut with common saw blades.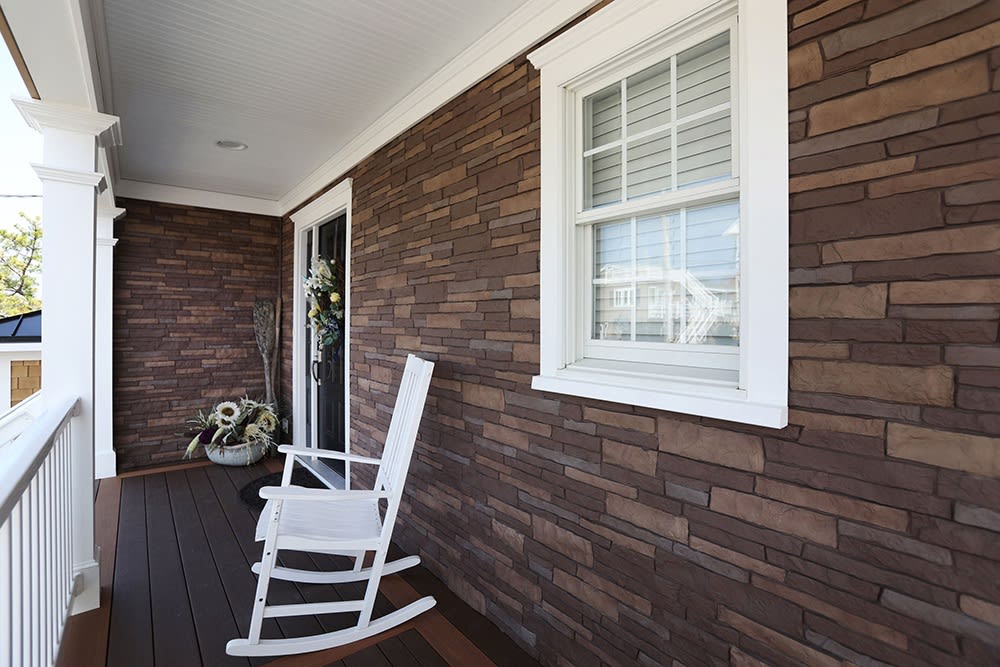 TandoStone Stacked Stone in Sedone Bluff
Impervious to Moisture
This unique composite stone is won't let moisture soak in, allowing installation at various levels of your home, from ground level up to the roof line. In contrast to traditional stone veneer, there's no need for a secondary rainscreen, plus it can be installed in any weather conditions: hot or cold, wet or dry. TandoStone's resilience and versatility make it an ideal choice for any climate.
Engineered for Excellence
Tando's commitment to quality ensures that your investment is built to last, enhancing home appeal and value for years to come. In fact, TandoStone is backed by a 50-Year Performance Plus Limited Warranty and an additional 20-Year Rock Solid Limited Warranty.
TandoStone Installation
Things to Know Before You Start
Whether you're a handy homeowner taking on a TandoStone transformation yourself or a pro planning a customer project, here are some details to be aware of before you dive in:
Non-corrosive Fasteners: Using non-corrosive fasteners is essential to ensure the longevity and stability of your TandoStone installation and prevent rust and deterioration over time. They should penetrate through the solid surface by at least 1 1/4" and anchor into a solid substrate by at least 7/16" for a secure hold.
Proper Storage: Storing TandoStone vertically on its edge rather than stacking it flat prevents potential damage.
R-E-L Number: Keep track of the R-E-L number on the product box for future reference if you need additional materials or replacements.
Cutting with Precision: Use a circular saw with a thin kerf finishing blade to ensure clean and accurate cuts when working with TandoStone.
Timely Finish Trim Installation: Plan ahead and install finish trims, like J-channel and Outside Corner Posts, on the wall according to manufacturer instructions before attaching TandoStone.
Space for Expansion: Maintain a spacing of 1/4" between TandoStone sections when fitting them between windows and around openings to allow room for natural expansion and contraction. This spacing prevents warping or damage due to temperature fluctuations.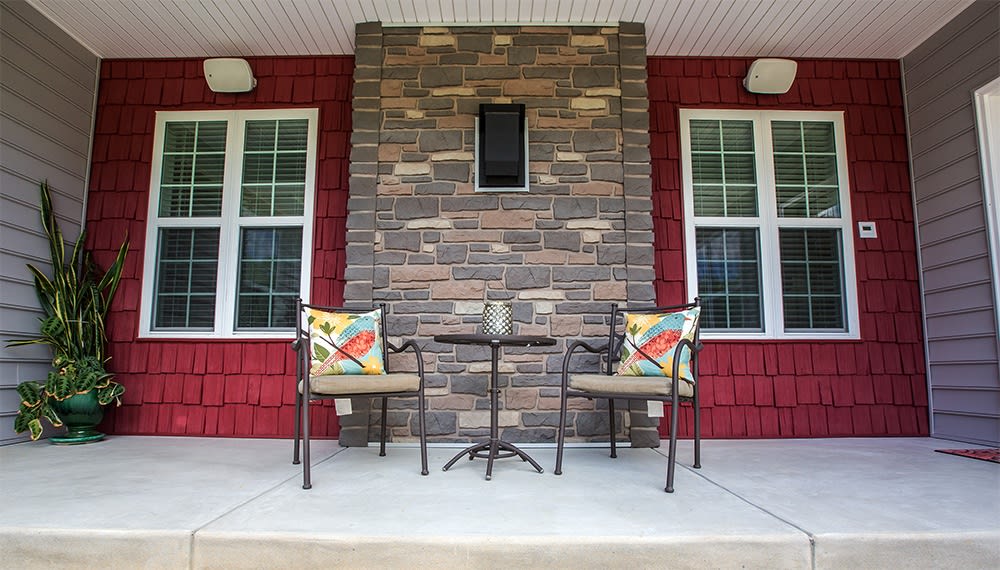 TandoStone Creek Ledgerstone in Bucks County Gray
TIP: For stunning results like those above, combine TandoStone with TandoShake composite siding.
Surface Preparation
Although TandoStone itself is impervious to moisture, it's an exterior cladding, not a weather resistant barrier. By design, it allows the material underneath it to breathe. Your TandoStone must be installed over a weather resistant house barrier system, such as house wrap.
Begin with a smooth, flat, and nailable wall surface. Tando recommends using a minimum of 7/16" OSB board or plywood for this purpose. If you're installing Tando products over furring strips, these should be installed on a 45° angle, spaced 8" center to center. Ensure that the side seams are supported by the furring strips.
Keep in mind that fixtures cannot be installed directly onto TandoStone. Always use wooden support or specifically designed mounting blocks to attach fixtures. Follow the mounting block manufacturer's installation instructions and ensure there's proper clearance, typically a minimum of 1/4", to allow room for expansion and contraction.
Applying TandoStone
TandoStone is installed just like regular siding! Whether you decide to take on the installation as a handy homeowner, hire a contractor, or you're the pro at a job site, two things are certain: 1) The transformation will be complete more quickly than you ever imagined, and 2) Everyone will love the results!
The following steps provide a quick overview of a TandoStone installation. It's a straightforward process and if you're experienced with traditional siding, you'll be very comfortable working with these composite siding sections.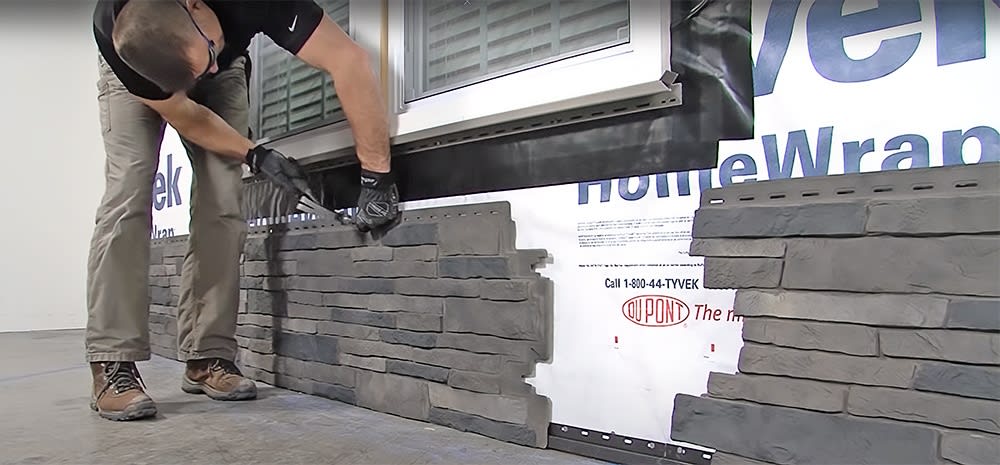 Be sure to refer to the Creek Ledger Stone Installation Guide or Stacked Stone Installation Guide that comes with your TandoStone product for more details, diagrams, and important notes.
Starter Strips: Start by installing starter strips at the lowest point of the wall. This ensures that you have a level base to begin your installation. The starter strips should be square with the wall, providing a solid foundation for attaching the TandoStone.
Determining Sections: Calculate the number of sections needed for the wall by following the formula in your product's instructions. This will help you plan the placement of the sections more evenly, resulting in a balanced and visually appealing installation.
Fastening Sections: When attaching the TandoStone sections, secure the center hole with a fastener and place additional fasteners at both ends and evenly spaced on each side of the nailing channel.
Continuing Installation: As you continue the installation, maintain proper spacing between sections. The spacing allows the sections to move with temperature changes without buckling.
Second Row: When starting the second row, cut the first section approximately 8" from the cutting line of the first row. This cutting and placement method helps create an appealing staggered pattern, enhancing the visual aesthetics of your TandoStone installation.
Last Row: For the last row, create a new 1-inch slot. This slot allows for the expansion and contraction of sections.
Decorative Corners Installation: When installing decorative corners, use starter clips and fasteners to secure them in place. These corners add a finishing touch to your TandoStone project, providing a polished look and ensuring that the sections are securely attached.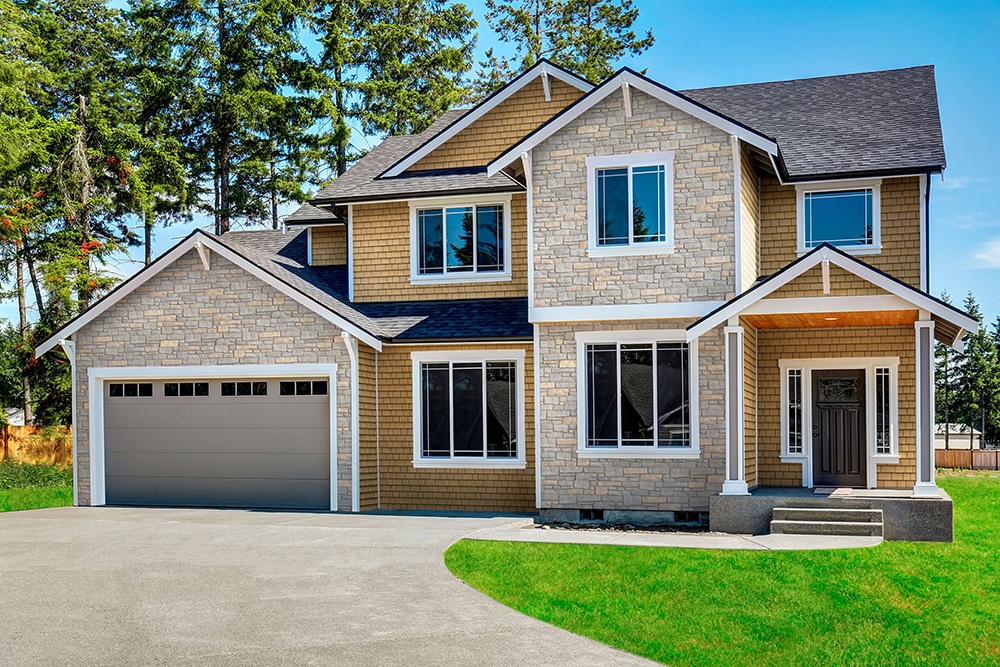 TandoStone Creek Ledgerstone in Nordic Mist
The Look of Stone for Less
Less money. Less time. Less hassle.
TandoStone offers an authentic stone appearance while streamlining the transformation process and keeping everyone's expenses in check. It's the perfect choice for homeowners who want to elevate their homes' beauty and contractors who want to add in-demand mixed material exteriors to their offerings. Say goodbye to forgettable facades, and say hello to the accessible, efficient, and attractive composite stone enhancement that will be the envy of the neighborhood.
If you have any questions about TandoStone, contact us—we're here to help!