We don't want to bury the lead, so we'll kick things off with this amazing offer from Starborn. Find out how to get your FREE Starborn Muro Ultra Driver Kit, then read on to see how Starborn's fastener system for decks, trim, and cladding helps you stay competitive with labor savings on every job.
FREE Starborn Muro Ultra Driver Kit
For a limited time, get a FREE Muro Ultra Driver Kit with a Makita Cordless Drill or a DeWalt Corded Drill—a $392 or $522 value—with your Starborn Collated Screws purchase!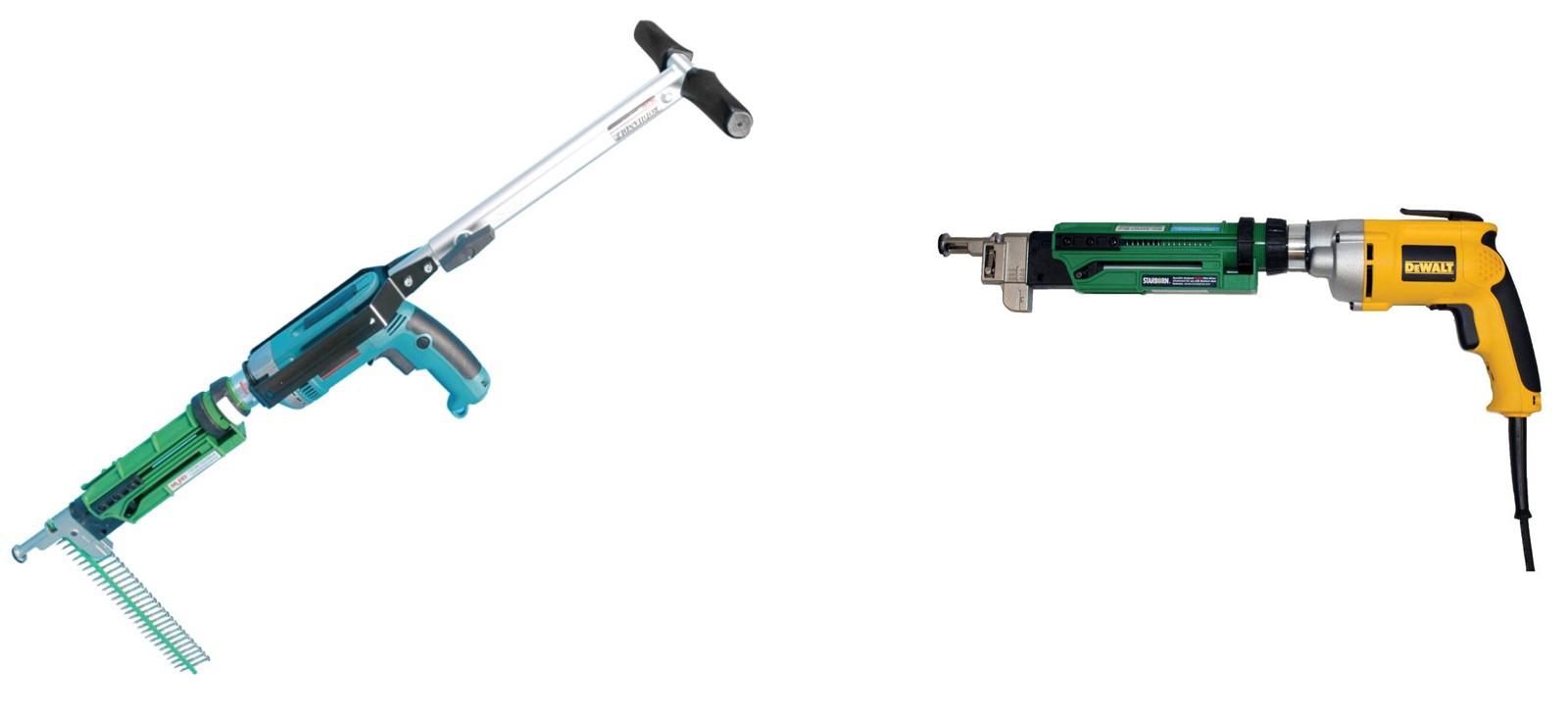 Starborn Muro Ultra Driver Kit with Cordless Makita Drill and DeWalt Corded Drill
Here's how:
Starborn Collated Fastener System
There's no doubt: Time is money. That's why we're always looking for ways to do quality work more quickly to make our projects as profitable as possible. The Starborn Collated Fastener System with the Muro Ultra Driver saves time on every job, putting more hard-earned money into your pocket—where it belongs!
Starborn Collated Screws
The Starborn Collated Fastening System for decks, trim, and cladding features the same great Starborn screws you already know, in a collated version. The screws are embedded into a plastic collation tape and auto-fed into the Muro Ultra Driver with Starborn Attachment for quick and easy installation.
With Starborn's collated strips, you skip the time-consuming process of handling each and every fastener: No more fumbling with loose screws that are easily dropped and lost. Convenient 1500-piece strip packs are available for Cap-Tor xd color matched screws and Pro Plug system screws. 50 strips of 30 screws each provide coverage for 425 square feet.
Just insert your collated screw strip into the Ultra Driver and you're ready to go.
Muro Ultra Driver Kit with Starborn Attachment
The auto-feed Ultra Driver installs Starborn collated screws effortlessly while the adjustable depth setting provides perfect, repeatable countersinking every time. With the speed and accuracy of this system, you can efficiently complete the project at hand… and move on to the next one.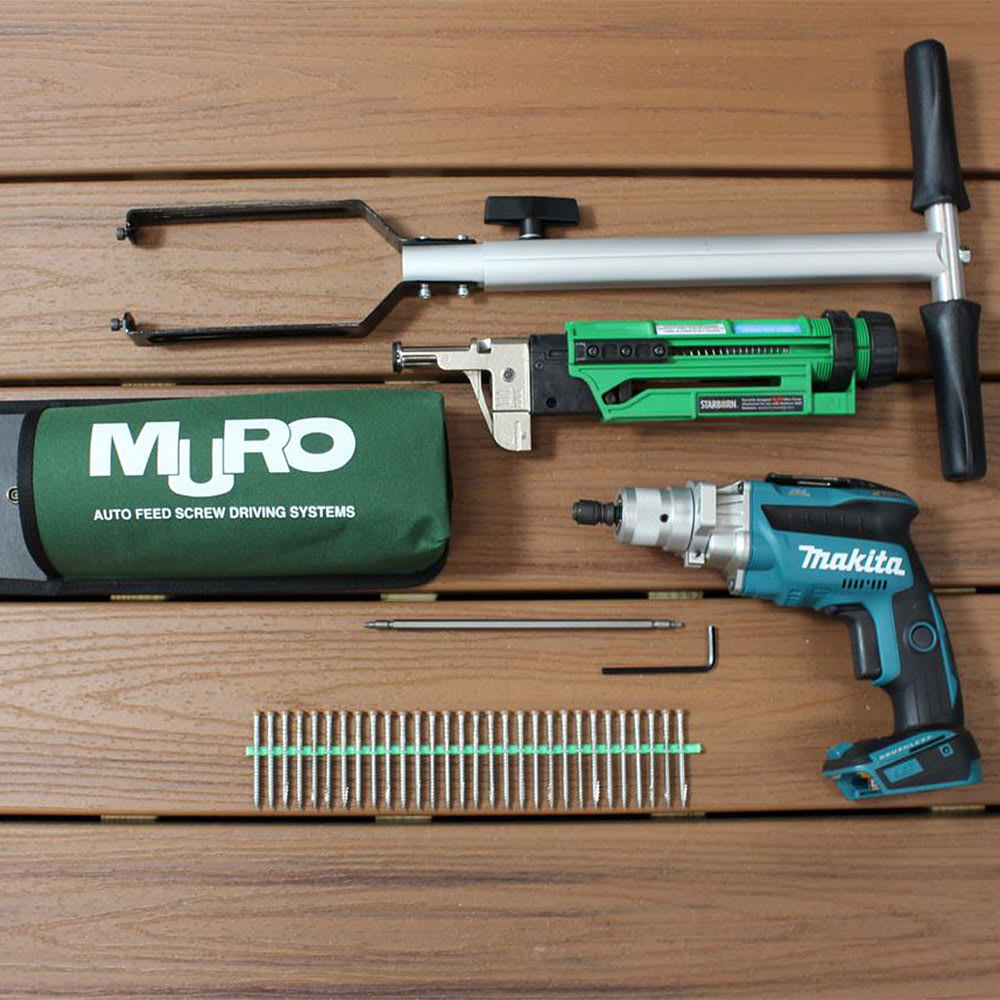 Starborn Muro Ultra Driver Kit with Makita Cordless Drill
and collated Starborn screws
Configure the driver to best suit the task: Whether the job calls for a long or short tool, a simple conversion guarantees you'll have just what you need.
Quickly work the length of an expansive deck using the telescopic extension handle for comfortable stand-up operation and set your Starborn fasteners down the line, without the backaches. Then, easily remove the handle and switch to the hand-held configuration for horizontal fastening of cladding or trim.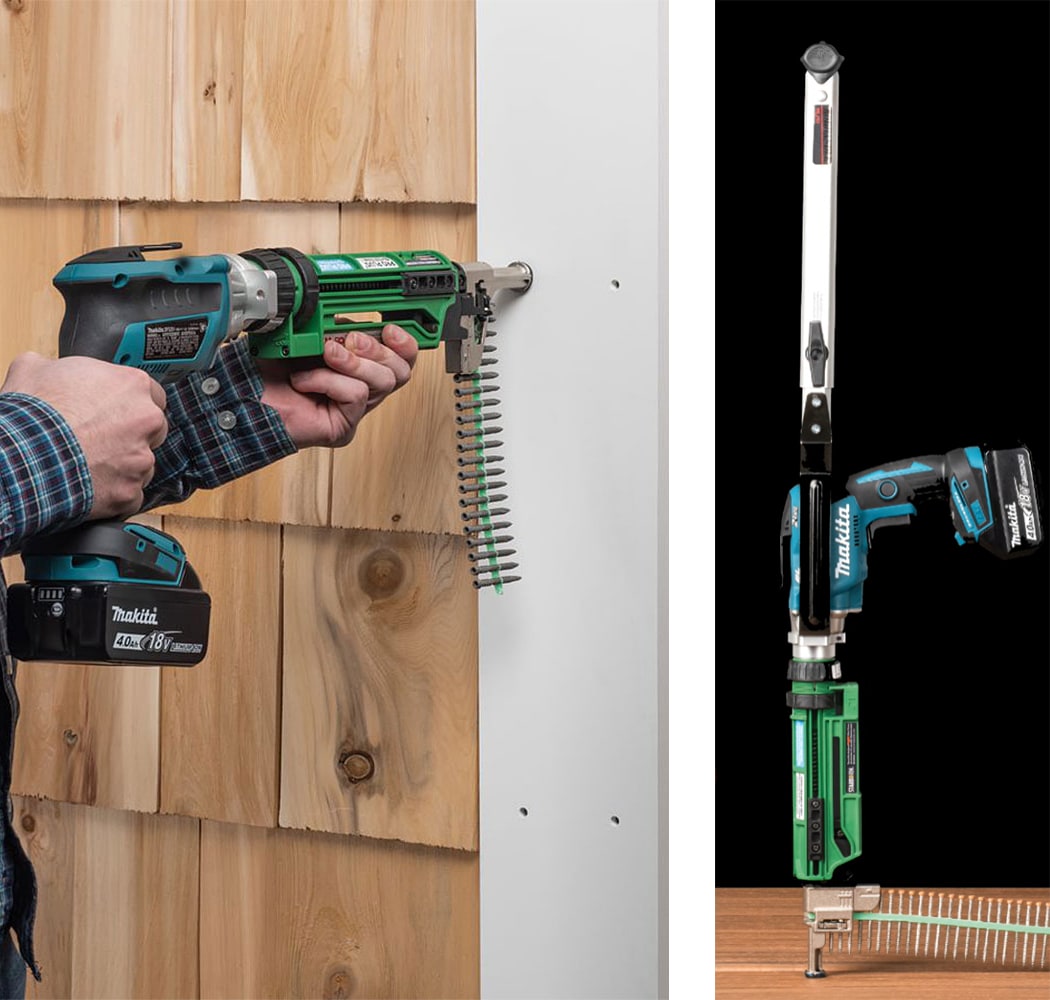 Muro Ultra Driver in hand-held and stand-up configurations
See the versatile Starborn Collated Fastener System in action here, tackling surface fastening and depth setting across applications with a simple twist of the wheel:
The labor-saving Muro Ultra Driver with Custom Starborn Attachment is about to become the workhorse of your jobsite, delivering fast, reliable installation of the Starborn fasteners you trust. Start saving money on every job when you finish more projects—more quickly—with quality results from Starborn.
If you have questions on the Starborn Collated Fastener System or how to get your FREE Starborn Muro Ultra Driver Kit, contact us. We're happy to help!