Got a minute? Then you have time to design your custom pergola. Yes, really!
The LINX Pergola System by Wild Hog makes building your wooden pergola a snap, and our LINX Pergola Planner makes choosing the right components for your design just as easy.
In a few clicks, you'll have everything you need—from high-grade steel LINX hardware and precision-engineered STIX timbers to popular accessories—to transform that undefined space in your yard into a relaxing oasis.
If you need a little encouragement, you can check out how easily the LINX and STIX pergola system comes together here: Build an Easy DIY Pergola in Hours. We guarantee you'll feel ready to build your very own pergola next weekend once you see how easy and DIY-friendly this system is!

A LINX double-bay pergola defines this modern patio
But let's get back to your pergola design. This is where the dream of your backyard retreat first starts to take shape. And we're so excited for you!
Just think of it: Kicking back in your shady get-away, getting lost in that book you've been meaning to read, taking an indulgent nap in your hammock… or maybe enjoying the seclusion of your new hot tub enclosure in the evening, finished off with flowing curtains, tropical plants, and the warm glow of string lights. Or maybe…
Sorry, we got a little carried away there. This pergola is going change the way you use and enjoy your outdoor space and it's easy to get swept up by the possibilities!
If you're dreaming of a wooden pergola that you can confidently build yourself, DIY Home Center's LINX Pergola Planner has you covered in four quick steps. (If you literally want your pergola covered, be sure to include the sunshade option. We'll get to that shortly!)
1. Select Your Pergola Style

Whether you're envisioning a simple, single-bay pergola or a multiple-bay structure for your outdoor area, kicking off your LINX pergola design with our LINX Pergola Planner is as simple as choosing the number of bays.
Single-bay pergolas are very popular, and this four-post style is likely what comes to mind when you begin to imagine your future pergola.
Multiple bays are great when you have additional space and they're especially well-suited for "stations," with each bay having a unique usage focus. Special hardware connectors join the bays together, allowing them to share common, interior posts.
If you haven't considered a multi-bay pergola before, here are a few fun ideas for inspiration:
Relaxation Stations: Designate one bay for lounging in shaded comfort, one for a roomy hammock, and one for a soothing hot tub.
Hosting Stations: Dedicate one bay for dining with friends and family, one for an outdoor kitchen with a grill or pizza oven, and one with a firepit for socializing (and making s'mores) well into the evening.
Poolside Stations: Use a bay or two to line up the loungers with towels for your guests, and one for a tiki bar stocked with cold beverages and high-top tables with stools.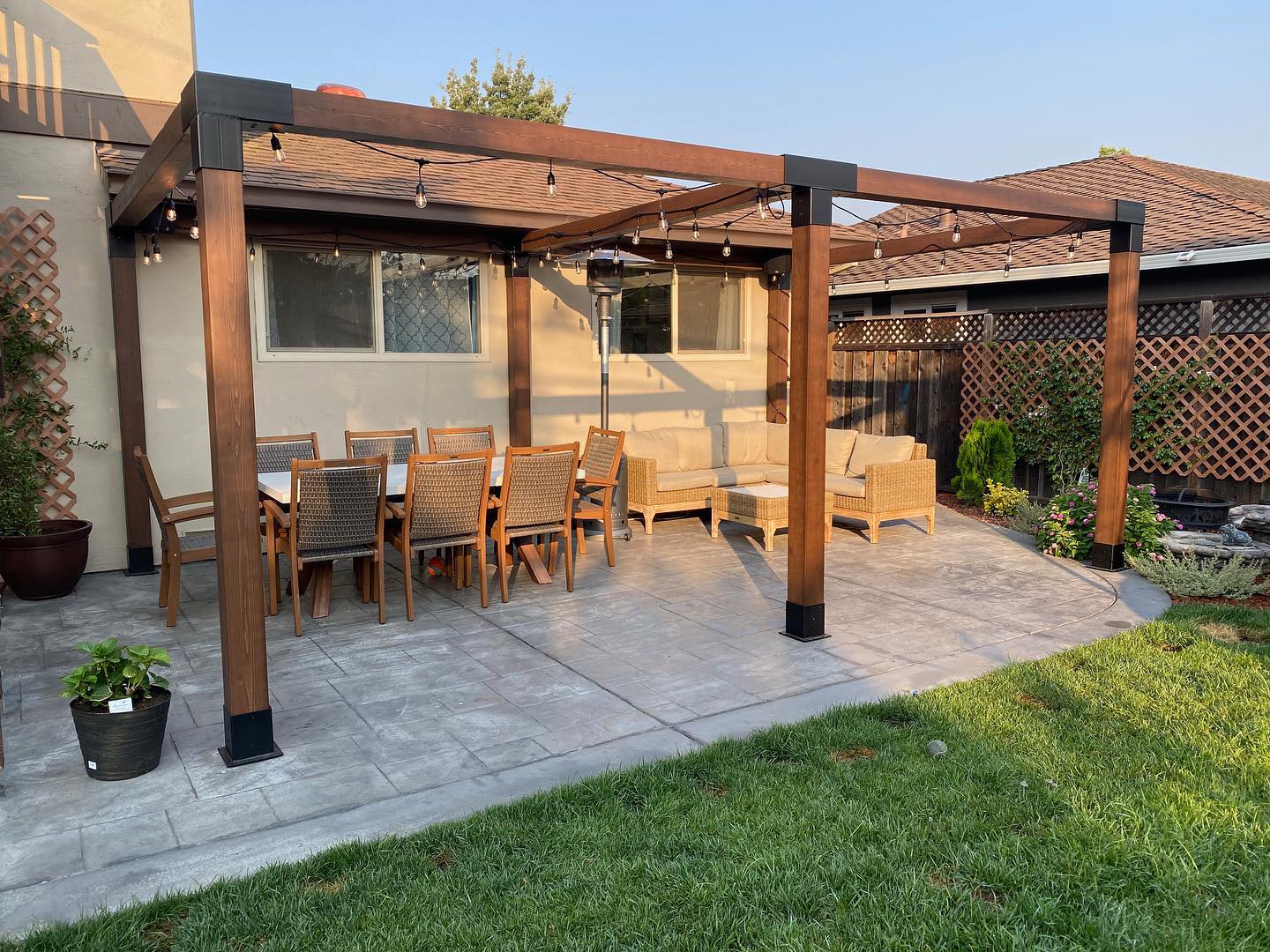 A LINX pergola with dining and lounging stations
2. Select Your Pergola Dimensions

Next, select your pergola height, width, and length: 8', 10', or 12'. When making your choices, be sure to consider the space you have available, the uses you have in mind for your new retreat, and the furniture and other elements you want house within your structure.
Your overall dimensions will be displayed as you make your selections. This includes the steel connectors that will join your STIX engineered timbers together which add from 6" to 18", depending on the LINX hardware needed for your design.
TIP: If you'd like to add a LINX Sunshade Kit, the length and width must be the same; to add a LINX Hammock Kit, both the length and the width must be 8'. Speaking of accessories…
3. Add Your Accessories

Can you believe that you're already up to the finishing touches? The LINX Pergola Planner really does make designing your backyard getaway quick and easy!
Choose from the following accessories to complete your pergola design:
Sunshade
Depending on surrounding structures, trees, and exposure, you may want to add a sunshade—or multiple sunshades—to further enclose your new space, keep it shaded from the hot sun, or for added privacy. LINX Sunshade Kits, available in beige or gray, can be affixed to the top or sides of your pergola—wherever you need them.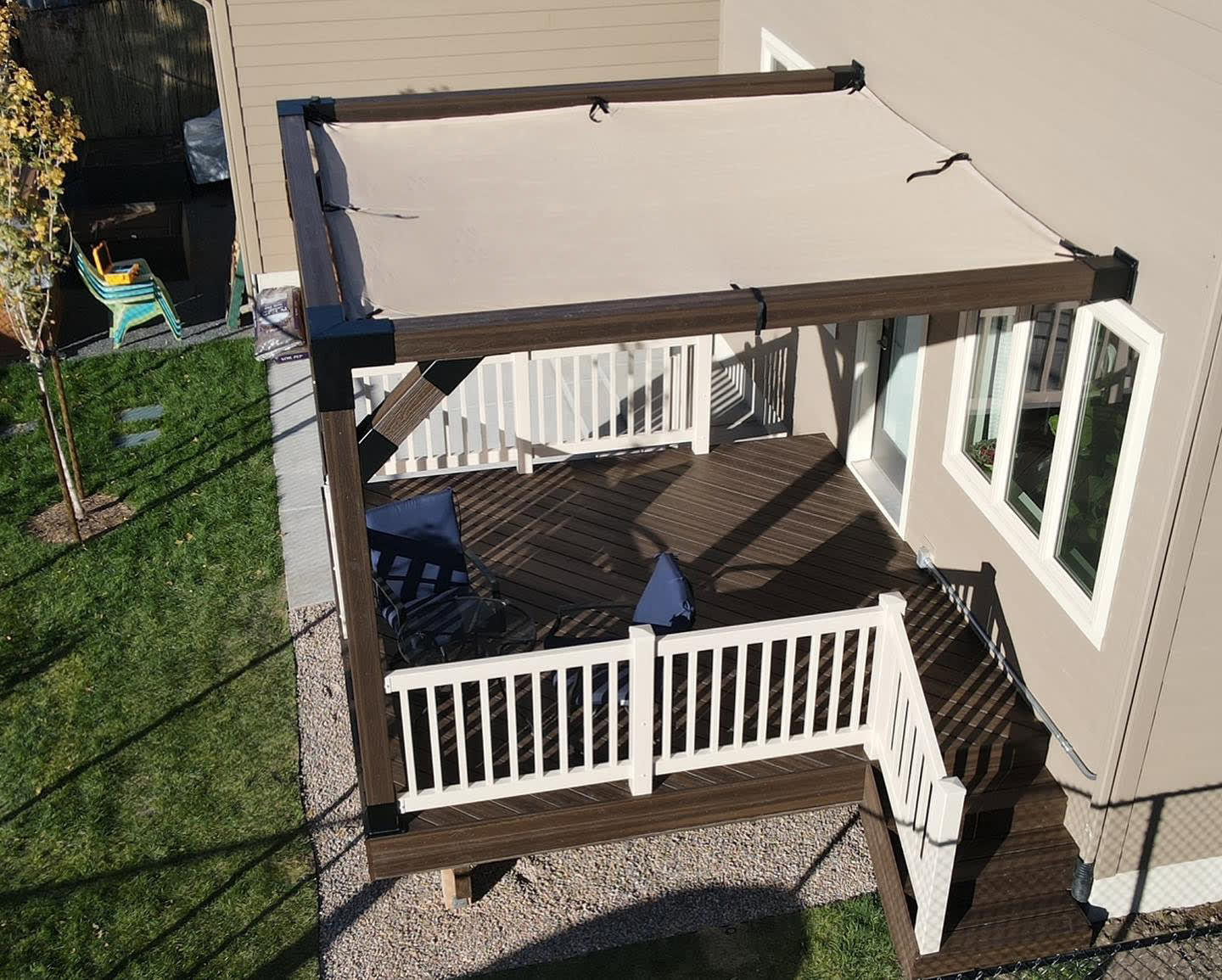 LINX Sunshade
Hammock
If lazy afternoons dozing off in the warm air or maybe snuggling with your sweetheart on crisp evenings sound appealing, include a hammock in your pergola design! The LINX Hammock Kit includes a white marine-grade Dacron sailcloth hammock with a UV inhibitor and mounting hardware. The hammock is sized for your 8' x 8' bay.
LINX Hammock
Knee Brace Kit
For the perfect blend of form and function, add STIX Knee Brace Kits to create angled, corner accents that look great and increase your pergola's stability at the same time.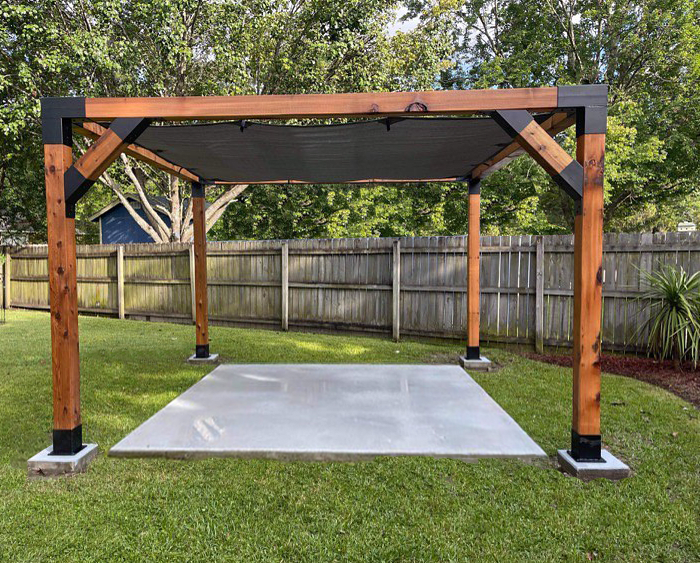 STIX Pergola Knee Braces
4. Calculate Your Pergola Design

That's it! Click the Pergola Planner's Calculate button to receive your material summary for a list of the LINX hardware, STIX timbers, and any accessories you'll need to assemble your fantastic DIY wooden pergola!
From there, you can add all the listed components to your DIY Home Center cart and conveniently check out, or you can fine-tune your design before finalization—maybe you do want to add that extra bay!
After you place your pergola order, we'll jump into action to get your items delivered quickly so you can start enjoying your new outdoor space as soon as possible. In the meantime, Craig will show you just how fast and easy your LINX own pergola assembly will be:

Questions? Pop by the LINX Pergola System of our Common Questions or connect with our helpful team of DIY experts via chat, email, or phone.