Whether you create extra income through a short-term rental (STR) property or it's your primary business, you already know that it's all about the guest experience. And you know there's competition, so every amenity counts. In fact, stats tell us that there are well over 2 million Airbnb and 850,000 Vrbo listings in the United States. With plenty of choices, how do you get guests to choose your property over the others?
An easy and inexpensive way to make your rental stand out—and keep the reservations flowing—is by introducing a pergola with an outdoor living space to your property. A pergola increases the livable footprint of your property, without the need for a disruptive or impractical indoor addition and the budget-busting bills that come along with a major construction project.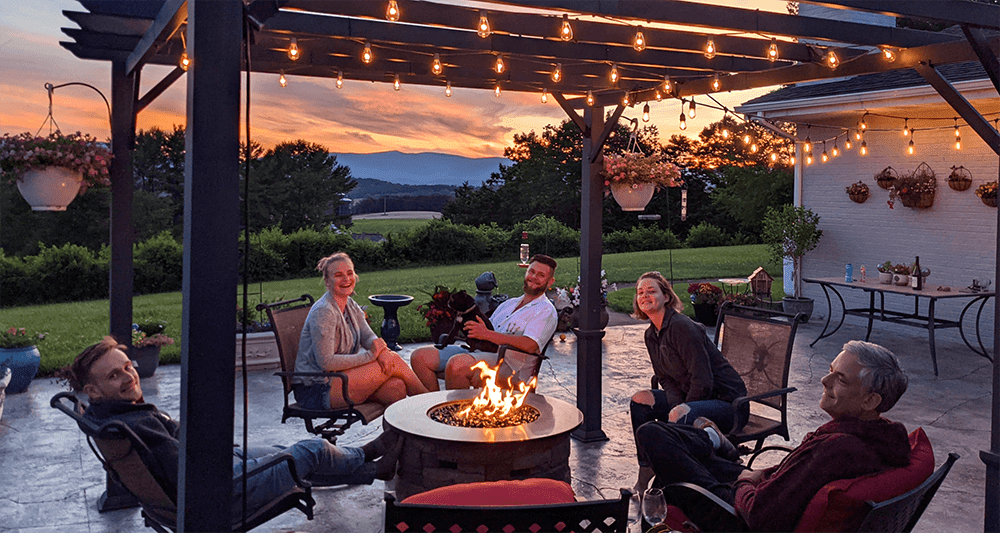 But don't stop there! Like we said, it's all about the experience. So, while a pergola in the backyard, garden, or tucked amidst a wooded area of your property instantly creates an inviting outdoor destination, let's give your guests something to do in that new space! Give them an experience in your pergola and get the buzz going for the one-of-a-kind memories they shared there. Those are the positive reviews that draw in future guests and keep the bookings coming.
Following are suggestions to ignite your imagination and make the most of your pergola space.
TIP: Don't limit these pergola ideas to the guests! If you're in residence at your STR for part of the year or you're a full-time resident homeowner looking to bring some vacation-inspired fun and relaxation to your backyard for your own enjoyment, these ideas are for you, too!
11 Conventional Pergola Ideas

This article promised "21 Unique Pergola Ideas," and we'll get to those in a jiffy. But we're going to start with "11 Conventional Ideas," just to kick things off.
Why? Because memorable vacations can be made from the simplest of pleasures, and just relaxing in a well-appointed pergola on a sunny afternoon or a starlit night can be the ultimate indulgence. (But if you just can't wait, go ahead: Jump down to the next section.)
Create a cozy outdoor living space with comfortable furniture and cushions, providing a relaxing retreat for outdoor lounging and gatherings.

TIP: When choosing pillows and upholstered cushions, select outdoor fabrics that are UV- and water-resistant with removable, machine-washable covers. For outdoor furniture that withstands the elements and resists splinters, cracks, chips, peeling, and rot, check out Trex Outdoor Furniture and POLYWOOD.

Hang outdoor curtains for added privacy and a touch of elegance, creating a secluded and intimate atmosphere in your pergola. Curtains look great combined with Ideas 9 and 10 below!

Add a fire pit for warmth, ambiance... and s'mores on chilly evenings, enhancing the cozy and inviting atmosphere for gatherings and making lasting memories. Supply the s'mores fixings, skewers, and hand wipes (those things are delicious, but messy).


POLYWOOD Classic Folding Adirondack Set with Fire Pit Table

Hang a hammock or swing for a restful retreat, allowing guests to unwind and sway gently while enjoying the fresh air and serene surroundings. Remember the pillows... and a light throw for cooler days or evenings.

Add a ceiling fan or misting fan to your pergola to keep guests comfortable on hot summer days, ensuring a cool and refreshing environment as the temperature rises.

TIP: Choose STIX Engineered Timbers for your pergola posts and use their hollow core to neatly hide unsightly electrical cords and avoid trip hazards. For more STIX benefits, check out Straight as an Arrow: STIX Engineered Timbers and find out why STIX are superior to solid lumber.

Set up a BBQ grill for carefree meal prep, enabling guests to enjoy outdoor cooking with minimal fuss and cleanup. Plenty of aluminum foil, a wireless meat thermometer, and a selection of locally-made marinades and grilling sauces are sure to be appreciated.

LINX Pergola System

Set up a space for outdoor dining, providing a dedicated area with a table and seating along with outdoor-safe dinnerware for enjoyable meals al fresco. Include festive napkins, colorful drink koozies, and a bussing bin for carrying dirty dishes inside afterwards.

Create a mini bar or beverage station in your pergola for guests to enjoy refreshing drinks in the shade. See Idea 5 for the best way to conceal the cord for the wine or mini fridge!

Hang plants and flowers to bring color and life to the space or use the pergola itself as a support structure for climbing plants, such as vines or ivy, to add a natural touch and create an organic haven.

TIP: Add Wild Hog Mesh Panels between your pergola support posts for an integrated trellis that can quickly become a living wall with fast-growing climbers like morning glory, trumpet vine, sweet pea, clematis, climbing hydrangea, and honeysuckle.


OZCO Plant Hanger and Wild Hog Mesh Panels

Install a hot tub or spa for ultimate relaxation and luxury, transforming your pergola into an oasis for rejuvenation and indulgence. Stock the area with fluffy white towels, guest flip-flops, and plenty of plants for a lush feeling.

TIP: Ferns, bamboo, tropical palms, peace lilies, and philodendrons thrive in humid environments and can tolerate indirect steam from a hot tub.

Drape string lights to create a magical atmosphere at night, adding a touch of enchantment and creating a cozy ambiance for evening gatherings.

TIP: Take this idea further by switching out decorative lights or lanterns to coordinate with the holidays or your guests' own special occasions. It's an extra touch that's sure to be memorable—and the source of shareworthy snapshots.
21 Unique Pergola Ideas

OK, now that we've hit on some of the more obvious pergola ideas for your short-term rental, it's time to get to those 21 unique ideas that brought you here. We're willing to bet there are several below that will spark some ah-ha moments! So, without further ado, here we go...
Install an outdoor sound system, providing guests with a seamless audio experience for lively parties, soothing background music, or even immersive outdoor movie nights. You can build on this with Ideas 12 or 21 below...

Design a serene yoga or meditation space with mats and comfortable seating, offering a tranquil retreat for relaxation and mindfulness practices amidst nature. Supply stones for stone stacking so guests can explore harmony and balance through a focused activity.



Create a sanctuary for guests seeking a peaceful retreat, providing a tranquil oasis for personal reflection and spiritual contemplation.

Establish a cozy reading nook with comfortable seating and a stocked, glass-front bookcase or a post-mounted "Little Free Library," offering an inviting spot for guests to indulge in a good book. Featuring books by local authors, those with your city as a setting, or area photobooks and tourist guides are all great ways to customize your book selection and make it a special for your guests.

TIP: If you're in a wet, humid area, house your book selection just inside the back door and encourage guests to grab a pile to enjoy outside under the pergola.

Integrate a small water feature or fountain for a calming sound and aesthetic appeal, adding a soothing and peaceful element to your pergola environment. Or, go a bit further with Idea 6...

Incorporate a small pond for fish and aquatic plants, introducing a captivating element to your outdoor space. For the adults, watching the fish can be an exercise in tranquility and serenity; for the children, it can be exciting and spark their curiosity. Specify if feeding is allowed and if so, supply the approved food so your aquatic friends can stick to their diet. The daily feeding will be something your guests look forward to each day of their stay.

TIP: Name your fish! (And post their names/photos in the pergola.) Everyone will remember Sir Bubblesworth and Gil!

Create a game area complete with a ping pong table, board games, or other fun activities, encouraging friendly competition and a good time for guests of all ages.

Create a recording/streaming studio for podcasters, offering a convenient space for podcasting enthusiasts to produce their shows during their stay.

This one may sound ambitious, but all it really takes is accessible electricity, reliable WiFi, a good ring light, and a windscreen—which could also serve as an attractive backdrop option with a little creativity. Your podcaster guests supply their own mics, headphones, and recording software—they'll already have their favorites packed and loaded anyhow. For very little investment, now you can advertise a "podcaster's pergola" as an amenity of your property!

TIP: This is another case where tucking your electrical cords inside hollow STIX pergola timbers will keep them out of sight and out of the walkways.|


Deckorators Lattice Panels

Equip an outdoor art studio for painting, drawing, and coloring, inspiring amateur artists to express their creativity while enjoying nature. This is a great way to keep kids and adults alike happily occupied and as a bonus, they'll have their one-of-a-kind artwork as a memento. Put together a small art cart with supplies like paints, disposable brushes, crayons, pencils, and charcoals along with an easel and plenty of paper.

Offer a crafting station stocked with supplies for guests to create their own projects, fostering creativity and artistic expression. Provide supplies to make a particular craft—such as painted rocks or friendship bracelets—or a hodgepodge of materials along with glue, pipe cleaners and string so your guests can choose. Like Idea 9 above, this experience provides a creative activity as well as a souvenir to take home!

TIP: For both Ideas 9 and 10, don't forget paper towels and a covered trash bin to help manage cleanup.

Curate a small art gallery to showcase local artists, creating an engaging space for artistic appreciation and cultural enrichment. Focus on art that's outdoor-friendly, like windchimes, pottery, metalwork, and mosaics, for example.

Integrate a projector and screen for outdoor gaming tournaments or immersive gaming experiences, transforming your pergola into a lively gameplay arena where pixels meet fresh air.



Provide a telescope and stargazing station with astronomy guides, allowing guests to explore and marvel at the wonders of the night sky.

TIP: An open-top pergola is perfect for star-gazing endeavors—you can design yours in a snap with our Pergola Planner.

Set up a photo booth area with a trunk of assorted props and backdrops for guests to take memorable photos, creating a delightful and interactive experience—and, of course, earning mentions for your STR on social media as they share their snaps.

Create a pet-friendly zone within the pergola, equipped with water bowls, a canister of treats, pet beds, and toys for guests traveling with their furry friends. Pet-loving visitors will be tickled that you included special amenities for their fur-babies.

Stock a birdwatching station with binoculars and bird identification guides, inviting guests to observe and appreciate the species native to your area. Install feeders, birdhouses, and birdbaths in proximity to your pergola to attract more feathered friends. Supply checklists of the local bird varieties so guests can mark them off as they spot each one.

Design a putting green for golf enthusiasts, offering a recreational area for practicing and refining their skills... or just a neat distraction for the kids!

Create a unique family-friendly space with a hammock and a sandbox, offering a spot for parents and children to unwind and play together. Include some little shovels, pails, and vehicles to keep the kids busy while the adults supervise in the most relaxing way. If you're not expecting children during a stay, just clear out the sandbox toys.

TIP: A LINX Sunshade Kit is great for keeping the little ones out of the direct sun while playing in this pergola arrangement.


LINX Pergola, created with LINX hardware, STIX 6x6 timbers, and hammock

Establish a teaching garden for guests to learn about sustainable agriculture and permaculture practices, promoting environmental awareness and hands-on learning experiences.

This undertaking involves research and thoughtful planning, but if you have the interest and the ecological commitment, it's certainly a unique learning experience for your guests. They may even want to implement some of the ideas when they return home, spreading the eco-love!

Set up a mini herb or vegetable garden beneath the pergola, allowing guests to harvest fresh ingredients for their culinary creations or cocktail and smoothie mixes. Include plant markers for easy identification. Factor in watering needs if natural rainfall won't be adequate.

TIP: The LINX Sunshade Kit is permeable, allowing rainwater to pass through to your plants. If you plan to include a sunshade, consider the many shade-tolerant edibles, including kale, carrots, mint, lemon balm, and cilantro. Or, opt for a double-bay pergola with one area for a sun-loving garden and another for a shady retreat for guests to gather. Note that sunshades can be placed at the top or sides of your pergola, depending on your preference!

Fashion an outdoor cinema for movie screenings, complete with a projector, screen, and floor cushions or beanbags for a unique viewing experience under the stars.


Make Your Rental Stand Out with an Inspired Pergola

Like the movie screen says, we've reached "The End." We hope you've found some exciting pergola ideas to make your short-term rental truly stand out among the listings! With a unique addition, you can create an unforgettable experience for your guests, inspiring them to leave those coveted 5-star reviews that lead to more reservations and more profits for you.
To bring your vision to life, explore the LINX Wood Pergola Kits and components, OZCO Pergola Hardware and Plans, and the Related Reads below for more pergola topics that will help you upgrade your rental's appeal.
TIP: Design your pergola in no time with our quick and easy Pergola Planner or tell us about your plan and get a FREE Pergola Quote from our team.
Integrate a pergola with a purpose into your property's amenities, create an oasis, and elevate your STR to new heights. It's time to leave a lasting impression on your guests and make your rental the sought-after destination!
---
Related reads: